architecture - engineering - construction
Kingspan OPTIM-R Inverted Roofing System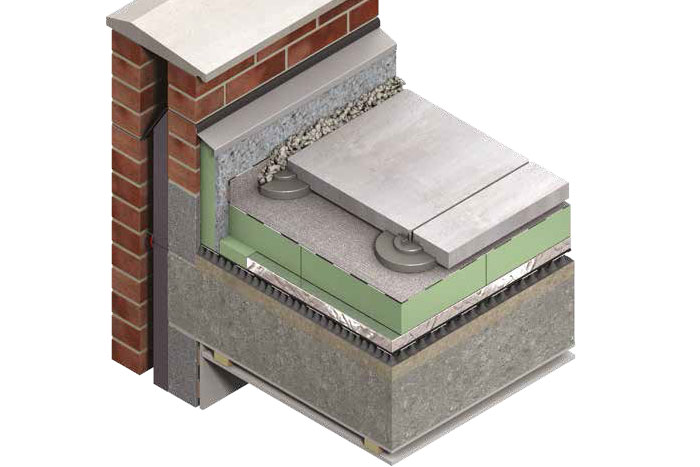 The Problem
When constructing a roof in new build situations or replacing a roof in existing buildings there may be a requirement for both low U–values / high R–values and the thinnest possible roof build–up. For new–build applications, there are increasing regulatory requirements and economic reasons to improve energy efficiency.
One of the approaches is to improve the thermal performance of the building envelope whilst keeping the overall construction as thin as possible. There are already high performance insulation products available that will fulfil the majority of these requirements, however in certain areas, for example where the design demands it, a new, thinner, product is needed.
In refurbishment, there is arguably a greater need to keep roof build–ups as thin as possible. In certain applications, internal space may be at a premium or there may be little space for installing new roof insulation, for example in buildings with planning height restrictions.
The Solution
The Kingspan OPTIM-R Inverted Roofing System has been developed to help solve these problems and is an optimum performance next generation insulation from Kingspan Insulation.
It comprises rigid vacuum insulation panels with a microporous core which is evacuated, encased and sealed in a thin, gas-tight envelope, giving outstanding thermal conductivity, with the thinnest possible solution to insulation problems.
The vacuum insulation panels are accompanied by rigid extruded polystyrene insulation infill panels which can be cut to fit around problem areas such as roof lights or ventilator curbs.
In retrofit applications, the Kingspan OPTIM-R Inverted Roofing System provides solutions for areas that previously would have remained uninsulated because of insufficient space available.
In new constructions, the Kingspan OPTIM-R Inverted Roofing System can significantly enhance U–values in areas that would otherwise be accepted as diminishing the overall thermal performance.
The high level of thermal efficiency with minimal thickness, achieved by the Kingspan OPTIM-R Inverted Roofing System provides solutions for applications where a lack of construction depth or space is an issue.
@KingspanIns_US #KingspanIns_US #Kingspan #Insulation #MoistureManagement

For other relevant searches, you might want to try: