architecture - engineering - construction
Ladder Receiver: The safer, less expensive alternative to vertical ladders
LadderPort™, the inexpensive permanent building mounted extension ladder receiver, securely holds the ladder in place. Hooks secure the ladder while side plates prevent it from moving left or right. The solid metal grab bars enable the technician to climb up and down a portable extension ladder comfortably and safely.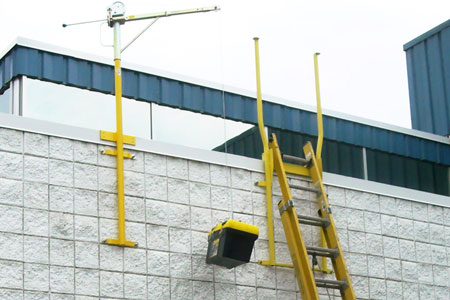 The benefits of LadderPort™ include:

Meets OSHA Regulation 1926.1053(b)(1)
Eliminates fear of climbing on and off the roof
Safe and reliable – even in ice and snow
Keeps contractors from tramping through your building with materials to reach an interior roof hatch
Different models available to protect gutters and building exterior
Eliminates vandals and children from using permanently mounted ladders
Reduces liability & lowers the risk of being sued due to a fall
Made in the USA
Type 1 - Standard Mount
First choice in comfortable safety when the building has a flat, strong wall and a simple flashing detail. This model accommodates a fascia board to 6" below the top of the roof edge flashing. Finishes: Powder Coated in your choice of Yellow or Dark Brown. Galvanized add $ 100.00 & Allow 3-4 weeks. Custom colors are available for an additional charge. We recommend purchasing the LadderPort Mounting Kit for Easier Installation. Optional Drill Bits Available, too.

For other relevant searches, you might want to try: