architecture - engineering - construction
About Copper Anodize
CAD details
Copper Anodize
Copper Elegance... Without the Patina
Linetec's unique copper anodize finish maintains its initial copper color and does not patina over time.
Architects, owners and residents no longer need to worry about the design complexities and maintenance issues when choosing the classic look of copper.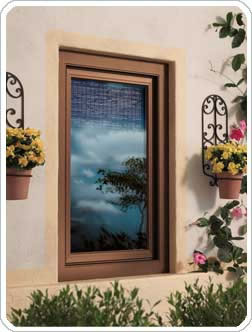 Marvin Window's offers fashionable copper anodize to enhance their customer's curb appeal and express their personal style.
Copper Anodize
Linetec offers its proprietary copper anodize finishing to architectural market-leaders.
This exclusive copper anodize finish offers our customers the look of rich, real copper without such shortcomings as salt run-off stains, galvanic corrosion and patina.
Linetec's new copper anodize process is a unique, consistent and repeatable process. It involves using actual copper to color the aluminum while isolating the copper in the coating. This process makes the copper color very stable and consistent compared to other copper anodize finishes. The rich copper color that is observed is actually copper that will not patina and will remain stable to provide many years of service.
This technology was developed in the mid 90's; material has been on the south Florida test fence for over 8 years with no significant change to color or gloss. The material meets all AAMA-611 Class I specifications and weathering tests.
Linetec's Copper Anodized Aluminum Offers:
Bright copper color, with no patina over time
Does not require a clear coat or ongoing treatment to maintain color
Can be designed adjacent to other aluminum materials, without galvanic corrosion risk
Will not leave copper run-off stains on the buildings exterior
Available in extrusion and flat sheet form
Less than 1/2 the weight of real copper
Color consistency within 5 delta E's (same as traditional anodize colors)
Material can be copper anodized before or after assembly
Warranties available
Meets AAMA 611 Class I Specification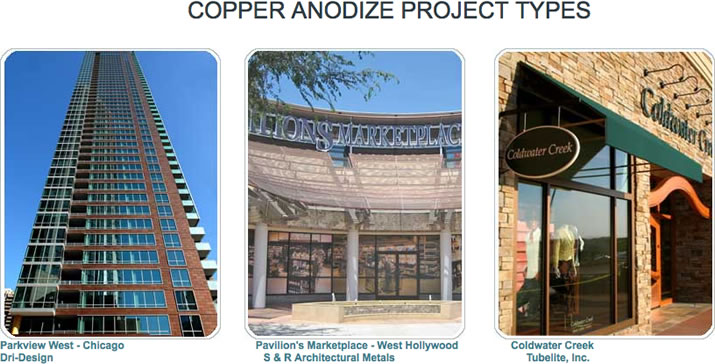 Source: https://linetec.com
05 05 13 - Shop-Applied Coatings for Metal