architecture - engineering - construction
Literary Museum Goes Underground with PENETRON
PENETRON ADMIX is a key ingredient in South Africa's first "green" museum, the National English Literary Museum, which opened its doors in April. The partially underground building uses PENETRON ADMIX to ensure a durable concrete structure in a harsh climate.

The National English Literary Museum (NELM), located in the university town of Grahamstown in the Eastern Cape province of South Africa, houses an extensive collection of manuscripts, books and journals relating to Southern African literature. The NELM actively collects all creative writing by Southern African authors who write in English. The museum also has outreach programs for schools and universities to promote awareness of South Africa's rich literary heritage.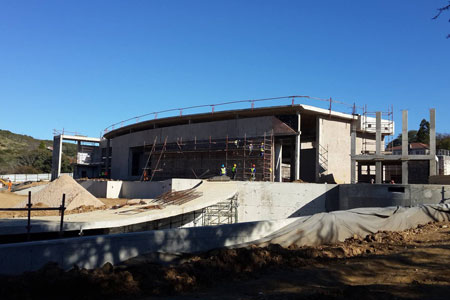 The National English Literary Museum, here under construction, is South Africa's first "green" museum sanctioned by the Green Building Council of South Africa (GBSA).
GOING GREEN
NELM's new building is Grahamstown's first green building. The project was the first public building sanctioned by the Green Building Council of South Africa (GBSA). The design received a five-star rating; it was the second highest rated building evaluated by the GBSA in 2014. Project architect was Rob Gillard of the CIBA Consortium.
The climate in Grahamstown is extreme at both the hot and cold ends of the temperature gauge. An important passive design strategy is cut into the sloped ground to ensure the collections are stored underground to minimize fluctuations in temperature and humidity. Xeriscaping (landscaping to reduce or eliminate the need for water irrigation) on the roof provides thermal massing, which helps the building effectively store heat during the day. Built-in reservoirs store collected rainwater.
The multi-floor design minimizes the footprint of the building, which is 5,000 m2 (53,820 square feet), on a site of 2.7 hectares (6.7 acres). The building is seamlessly integrated into the ground's park-like setting.
LOOKING FOR DURABILITY
"With a location in such a harsh climate, the museum designers were aware of the need for a solution that would ensure both a waterproof, durable and very robust structure,"
adds Clive Leader, Managing Director of PENETRON South Africa.
PENETRON ADMIX was used to treat all of the project's structural concrete elements, including the retaining walls, all roof slabs and water containment tanks and channels. Over 2,600 m3 (3,400 cubic yards) of concrete were treated.
"The effectiveness of PENETRON ADMIX to extend the lifespan of concrete made it the ideal solution for the unforgiving Eastern Cape climate,"
adds Jozef Van Beeck, Director for International Sales & Marketing of the PENETRON Group.
"The project is now a showcase for sustainable design and construction in Southern Africa."
The PENETRON Group is a leading manufacturer of specialty construction products for concrete waterproofing, concrete repairs and floor preparation systems. The Group operates through a global network, offering support to the design and construction community through its regional offices, representatives and distribution channels.

For other relevant searches, you might want to try: