architecture - engineering - construction
Maxxon® MVP (Moisture Vapor Protection)
Maxxon® MVP (Moisture Vapor Protection) is a unique 2-component, moisture tolerant, low viscosity, solvent free, chemically enhanced epoxy based product which reduces the passage of water vapor and moisture through slabs on or below grade, thus eliminating delamination of adhesives, floor coverings and coatings.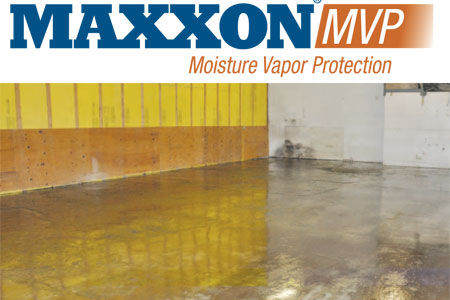 MVP reduces water vapor transmission levels of up to 25 lbs/24 hrs •1000 ft² to 3 lbs or less for the installation of most floor covering systems including VCT, sheet vinyl, carpets, wood, laminates, epoxy, terrazzo, & synthetic gym flooring.

Note: Use Maxxon DPM in case of capillary infiltration of oil or other chemicals from the ground or to treat oil contaminated slabs or radon infiltration.

Commonly used in:

Industrial/retail facilities
Office buildings
Hospitals and schools
Residential slabs
Food processing plants
Typical Applications:
Concrete slabs
Cementitious underlayment (other than gypsum
Ceramic tiles with missing or damaged under-slab vapor barriers
Call Maxxon for:
Slabs with floor heating
Residential slabs below grade
Garages
Features & Benefits
Vapor & water barrier
Compatible with most flooring systems
One-coat system with no sand broadcast
Reduces moisture vapor emission rates of up to 25 lbs to 3 lbs or less
Minimal downtime
Next day flooring system installation
Covers new concrete (min. 5 days old; keep in mind shrinkage cracks may occur)
Can be applied to damp concrete
High alkalinity barrier (pH 13-14)
Low viscosity
Does not support mold growth
Indoors: low odor and non-flammable
VOC Content of 0 g/L
Helps contribute to LEED® (IEQ 4.2 = 1pt)
ASTM E96 perm rating < 0.1
Meets ASTM F3010 at specified yield of 16 mils
Download FULL Datasheet
About Maxxon Corporation
Maxxon Corporation, has provided superior underlayment products for solving virtually any floor problem. Maxxon not only started the industry, but continues to lead it with high quality products, training, research, and expert installation by a network of authorized dealers throughout North America.

For other relevant searches, you might want to try: