architecture - engineering - construction
Mixed-use Development's Façade Blends into Historical Neighborhood
A mixed-use, midrise building at 109 King Street in Newcastle, Ontario, was planned with the design intent to match the look and feel of the heritage brick facades on nearby historical buildings. Large windows with very little panel surface area created unusual design challenges. Installation in the middle of a residential neighborhood, with no scaffolding, in the depth of a Canadian winter, added to the challenges of this unique project.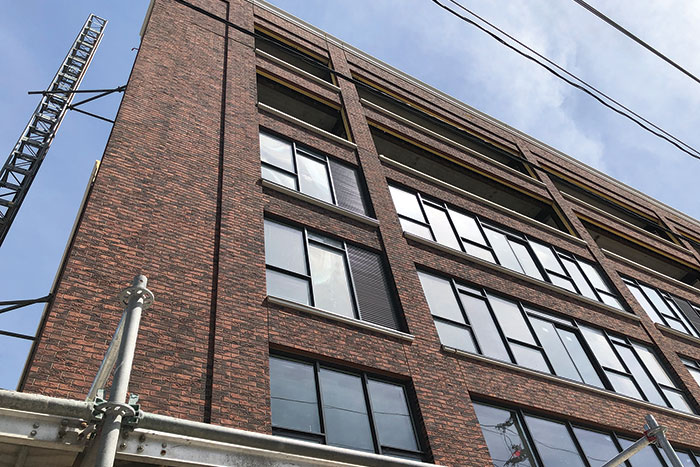 The project team included building owner, Gyaltsan Properties, general contractor, Wilkinson Construction Services Inc., architect Nick Swerdfeger, and SkyRise Prefab Building Solutions. The team determined that a Sto Panel Technology® prefabricated finished exterior wall panel system with brick and stone aesthetics was the cladding needed to achieve the historical look they desired to blend into the neighborhood. It also provided the durability and sustainability needed to hold up to Ontario winters. And because the panels are manufactured off site, it was much easier to work in the constrained space.

SkyRise Prefab engineered, manufactured, and installed 17,000 sq.ft. of StoPanel Classic NExT ci panels, with StoCast Brick, a prefabricated resin brick shape, and StoSignature® Stone, a customized surface aesthetic.

StoPanel Classic NExT ci is a lightweight prefabricated panel that is energy efficient and durable, with continuous insulation, StoGuard® waterproof air barrier and the patented "Sto Wedge" to provide an integral means of drainage and a wide range of aesthetic possibilities.

StoCast Brick is a prefabricated, highly customizable and versatile resin cast brick shape that can be used in a variety of Sto Engineered wall systems. It is flexible, lightweight, sustainable, durable, and looks like traditional brick, which is exactly what this project needed. The customized surface aesthetic used, StoSignature Stone, giving the building a look of true limestone, which provided an elegant aesthetic to the building.

SkyRise Prefab Building Solutions leveraged the benefits of lightweight StoPanel Classic NExT ci and StoCast Brick to accommodate large windows that offered no room to support a heavy brick wall. They accomplished this without compromising the aesthetic appeal Nick Swerdfeger Architects carefully
designed into the building. The design team and local community were further delighted by the speed of installation, high thermal efficiency, and cost effectiveness the SkyRise team brought to this project.

When looking at this project no one would know it's not actual limestone and bricks on the walls, the aesthetic is stunning and perfectly fits with the community. It is extremely rewarding to be able to provide the tenants a historical looking home while enjoying the modern perks of an energy efficient building that will decrease energy consumption and therefore lower utility bills.

@StoCorp #StoCorp #building #offices #stoventec

For other relevant searches, you might want to try: