architecture - engineering - construction
MorZip – Wall to Roof and Back Again
MorZip®, a dual purpose single-skin wall and roof system, offering maximum design flexibility! The MorZip® profile is designed for use on both vertical and horizontal surfaces. MorZip® does it all, providing seamless transitions from wall to roof and back again. MorZip® affords you the opportunity to design freely with convex lay-down or mechanical curves; concave mechanical curving and both curved and straight tapered panels. No longer are you restricted to selecting a separate wall and roofing panel. Morin does it all with MorZip®, naturally in copper, zinc, stainless steel and aluminum and in painted aluminum, Galvalume or Zincalume.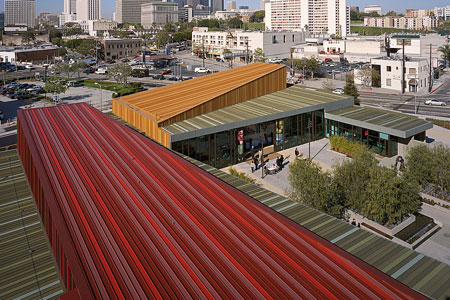 No longer does the designer have to select a separate wall and roofing panel.

MorZip® does it all, providing seamless transition from wall to roof and back again.

This panel profile, in existence since 1964, is the most successful structural standing seam roof system used on high profile projects throughout the world.

Design Features
MorZip®Naturals in stainless steel, zinc, copper and aluminum, will last the lifetime of the building.
MorZip®Painted Metals offered in aluminum or Galvalume/Zincalume
Mechanically seamed sidelap provides unsurpassed weathertightness at slopes as low as ¼:12.
Hidden clip fastening eliminates need for through fasteners.
Jobsite roll forming of MorZip panels in continuous lengths is available to eliminate panel end laps.
Curving capabilities include convex lay-down and mechanical curve and concave mechanical curve.
Tapered options are either a curved tapered or a straight tapered MorZip panel.
Contact MORIN Technical Service
Department with your unique project requirements.

For other relevant searches, you might want to try: