architecture - engineering - construction
New in AECinfo.com: Smoke Guard, Inc.
Flexible Fire and Smoke Protection
Smoke Guard provides innovative and aesthetically appealing fire and smoke protection systems to fit any purpose and any opening in your building.
Our complete range of curtain systems is flexible—both physically and in application. Our protective systems can cover every opening, from small dimension dumbwaiters and pass-through counters to expansive atrium spaces and proscenium curtains for theater stage spaces.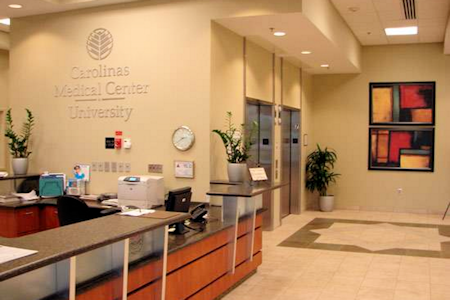 Carolinas Medical Center-University
Smoke Guard has been in business since 1991. We've been around the block, and with over 50,000 units installed worldwide we're proud to call ourselves industry leaders in flexible fire and smoke-rated protection experience and expertise.
Smoke Guard's assortment of smoke and fire curtains are the perfect solution to the rigorous fire code standards enforced in hospitals, hotels, senior care, apartment high-rise occupancies, prisons, and buildings without sprinklers, but these are only the most common examples. Fire and smoke curtains have the potential to eliminate elevator lobbies and make atria code compliant without compromising aesthetics or safety. This added level of architectural freedom is a worthy consideration for almost any building project.

For other relevant searches, you might want to try: