architecture - engineering - construction
News
New Website Captures Spirit of Structures Unlimited, Inc.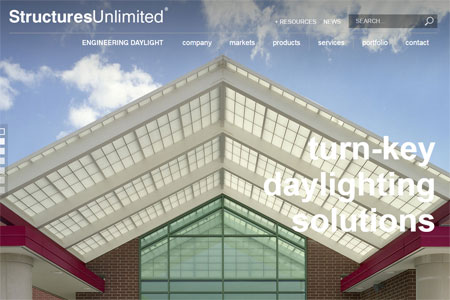 The skylights, skyroofs, pool enclosures, canopies and walkways produced by Structures Unlimited, Inc., are imaginative, bold and expertly engineered. That theme is captured smartly in the company's new website (www.structuresunlimitedinc.com) launched this month.

High resolution photography and video help tell the story of a premier single-source manufacturer that has made an indelible mark on the industry with its unique pre-engineered box beam system that can span areas in excess of 100 feet.

The site's scrolling locking panels are part of an intuitive navigation system, allowing viewers to see the impressive array of applications where the products of Structures Unlimited have been used to create a breathtaking portfolio in markets that include education, civic and recreational, commercial, waste management and aquatics.

"We wanted to make it easy to find what you want," said Sam Keller, creative director for Structures Unlimited. "We wanted to showcase the product by using photos and in-depth specifications to give consumers as much knowledge about our products as possible."

There are dedicated pages to Technical Sales, Estimating, Daylight Modeling, Design + Engineering, Drafting + 3D Modeling, Project Management, Fabrication and Installation. Sorting options include: product lines, market sector, panel grids, sustainable projects and specialty applications.

About Structures Unlimited

For over 40 years, Structures Unlimited, Inc. has been creating the most energy efficient, diffuse-light-transmitting skylights, enclosures and natatoriums with clear spans over 100 feet. A unique technology of our own self-supporting aluminum structure is blended with Kalwall® translucent sandwich panels to form a total composite system ... pre-engineered, prefabricated and factory pre-finished for structural, energy-efficient, maintenance-free performance. The balanced daylighting achieved by these highly corrosion-resistant, energy-efficient structures opens up a world of design and engineering possibilities to architects and building designers.
For other relevant searches, you might want to try: