architecture - engineering - construction
Niland Co. H.I.D Luminaires
The most comprehensive assortment of nostalgic luminaires in the industry is featured here. Niland Co. can duplicate any historic post top luminaire from as little as an old photograph. All Niland Post Top and Pendant luminaires are designed fit on any of our integrated light pole products. High performance Options include: - Cut-off adaptable - High Pressure sodium - Metal Halide - Compact Flourescent - QL Induction - Incandescent - Fixtures accept 3 inch integral tennons.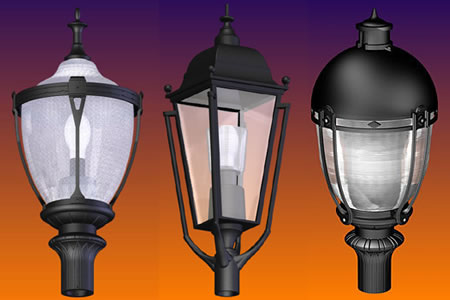 Outdoor Antique LED Street Lights and Antique LED Street Lamps are our specialty. The Niland Company is a designer, manufacturer, and vendor of many different styles of streetlights and antique street lamps. Browse our online catalog and request a quote directly from our website where your specifications are stored and saved automatically with our project builder feature. Whether you are developing a municipal, private project, or outdoor lighting project, or you only need one aluminum pole, cast iron pole, or tapered steel pole for roadway applications. Niland has a unique and well engineered antique streetlight product to fit your sites needs. Custom aluminum light poles and antique street lamps are easily specifiable with coordinating components that allow designers to create a custom look with a stock group of inventoried cast aluminum pole components that are easily interchangeable. All the exterior welds on our antique streetlight poles are finished smooth. Our Ni-Clad (patent pending) pretreatment system ensures a corrosion free light pole product designed to last a lifetime and beyond. Cast iron poles and fluted steel pole options are available in our municipal section. High performance optical systems finish our historical lamp post designs with cut off distribution for dark sky applications.
The Niland Company is your one stop shop for outdoor light pole products and steel site furnishings. Browse our catalog of Municipal or Niland Series outdoor street lights and antique street lamps. Choose from aluminum poles only, luminaries only, or sites furnishings with steel benches, steel trash receptacles, and steel bike racks. All Niland outdoor lighting and steel site furniture products are made with cast aluminum and steel manufactured and finished in the USA.
Our Quality and pricing are unbeatable when you compare the competition closely. Quality is free and your project deserves the best. Our global factory agents around the world will help you specify and buy. They are statically linked to this website and can give you quick answers to many of your questions. Quotation requests are sent to us and copied to our agents automatically. We also offer custom Plastic Rotational Molding and Custom Powder Coating services to our regional clients.

For other relevant searches, you might want to try: