architecture - engineering - construction
News
NuTone EZFit™ Ventilation Fan Attaches to Drywall, No Attic Access Required
NuTone®, a leading manufacturer of residential ventilation products, has introduced a bathroom ventilation fan featuring patent-pending installation technology. The ENERGY STAR® qualified NuTone EZFit™ Ventilation Fan is designed with clamp connections instead of screws for faster installation in retrofit construction.
According to a nationwide study conducted by Broan-NuTone and Frohman Associates, Glendale, Ohio, quick and easy installation is one of the top features that contractors seek in a bath fan.
"Although there are many profit opportunities in upgrading bath fans, contractors often avoid fan replacements because of the hassle of climbing in to the attic," says Patrick Nielsen, marketing manager, ventilation fans, NuTone. "EZFit maximizes profit with an easy installation from inside the bathroom."
The EZFit Ventilation Fan installs roomside and attaches to the drywall rather than a joist or truss, eliminating the need to crawl into the attic.
EZLock™ tabs (pictured right) clamp the housing onto the drywall with just a screwdriver. No mounting frame is needed.
Once the housing is installed, the exlusive EZDuct™ feature connects the blower to the ductwork from inside the housing, eliminating the need for attic access. It works with both 4-inch oval and 3-inch round duct connections.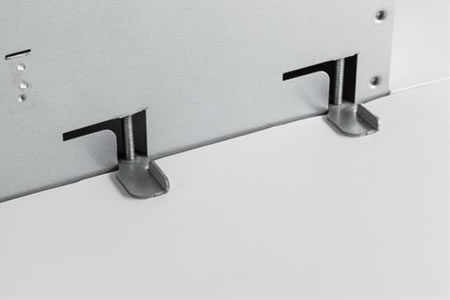 Pictured: EZLock tabs from above the drywall. Tabs not visible from inside.
Wiring can also be easily handled from inside the room with the EZConnect™ wire connectors.
The EZHold™ pre-installed blower attachment screws mean no third hand is needed. The blower fastens to the housing just by tightening pre-installed screws.
Other product benefits include:
Up to 50 percent more power than typical installed fans to eliminate foggy mirrors, moisture and odors faster than standard bath fans
Up to 70 percent quieter than typical installed fans for a more comfortable and relaxing environment
The EZFit Ventilation Fan (model EZ80N) is now available through NuTone distributors and has a manufacturer suggested retail price (MSRP) of $223. For a complete list of NuTone ENERGY STAR qualified fans, visit www.NuTone.com.
For other relevant searches, you might want to try: