architecture - engineering - construction
Parking Booth with Security Systems
Security professionals have long known that locations where people and their valuables are together – such as in parking lots – are often favorite targets of criminals. Installing proper parking booths with security systems are pivotal to prevent criminals from attacking people's properties. Par-Kut booths can help make the waiting and/or paying experience safer and more comfortable.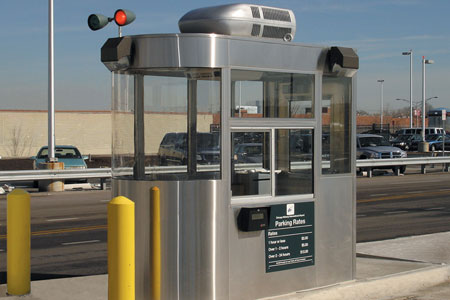 Our durable steel parking booth can stand up to any weather condition for years, and our standard parking booths arrive fully assembled and completely wired for immediate operation. The rigid frames allow for signage, lights or security cameras to be easily installed. The security amenities of Par-Kut parking booths and the professionally built appearance can often make the difference where people choose to park (and work).

Security systems for parking booths must be improved not only for parking customers, but also for the parking attendants. All too often, parking booth attendants are the target of robberies and quite often the crook is armed with a gun. Just recently at a large amusement park, a parking booth attendant was robbed at the parking booth window. Par-Kut parking booths provide parking attendants peace of mind and confidence in their safety. Additionally, with the standard heavy duty locking steel door with dead lock, when the booth is closed for the night, there is little worry about vandalism.

Par-Kut parking booths are designed to secure remote parking booths with your facility's access control system, including built-in preps for gate controls, phone and data, electronic door strikes and cameras. Booths are custom designed to meet specific aesthetic and functional requirements such as tinted glass, cash drawers, air conditioners and restrooms. Factory assembled, Par-Kut parking booths arrive ready to install and use.

For other relevant searches, you might want to try: