architecture - engineering - construction
Penetron projects from around the globe
Even in the face of current global economic turbulence Penetron Systems continue to be in demand as evidenced by the growing number of prestigious projects around the globe. The global trend towards focusing on and increasing concrete durability is definitely felt across a wide spectrum of projects on all continents as 3rd generation crystalline admixtures are in heavy demand – with Penetron Admix leading the charge and setting benchmarks other systems are measured up to.
Vista Bahia, Nordelta, Buenos Aires, Argentina
A new luxurious 200-unit condominium development in the Nordelta not far from Buenos Aires, the Vista Bahia has much to offer:

Exclusive bay views
Large outdoor swimming pool (20x8 m), heated indoor pool, solarium, gym, and sauna
Scottish showers, a laundry, changing rooms and parking
Designed by Studio Santa Ana Architects and built by Shap S.A, the project was built in Nordelta, a swampy land with high groundwater levels. It was essential to protect the concrete walls directly exposed to ground water and against water pressure from the bayside.
Penetron Admix applied to the substructure (15,000m2 basement floor area) provides sustainable protection and concrete durability.
Mediterranean Village Resorts, Paralia, Katarini, Greece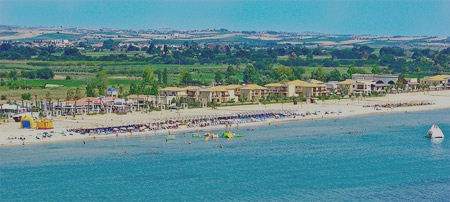 Built on the beautiful coastline of Paralia, Katerini in Northern Greece, Mediterranean Village is a 5-star hotel complex of exceptional quality and luxury.
Covering a total area of 45,000m2, the facility includes several independent and partially connected buildings with exquisite architectural elements. The proximity to the Mediterranean Sea posed a risk to the reinforced concrete structure with basements one and two levels below ground and sea-level.
The main requirements for the protection of the concrete not only included a completely waterproof concrete protected from corrosion and chloride penetration, but also resistance to carbonation.
In order to achieve all of these requirements the project engineers in collaboration with the developer Lambrou S.A. Hotel Enterprises decided to use Penetron Admix for the protection of the concrete. The objective was to create a white tank structure – a structure that is in itself waterproof without the addition of any topical applied products such as membranes or cementitious coatings.
"We needed not only to protect the concrete from corrosion and chloride penetration, but also resistance to carbonation," says Marinos Tseregounis Head of the Technical Department at Penetron Hellas. "A white tank structure was created with Penetron Admix to eliminate the need for topical membranes or cementitious coatings."
Penetron Admix was added to fresh concrete (a total of 3,500m3) at the time of batching; all construction joints were treated with Penebar SW swellable-type waterstops (1,600m).
The Wind, Bangkok, Thailand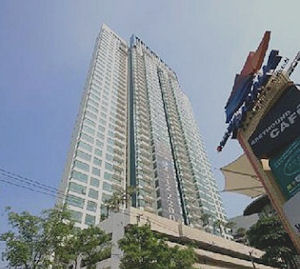 The Wind is a 38-floor condominium located on Sukhumvit Soi 23 with views overlooking the city for 336 units and 4 penthouses. Designed by Palmer & Turner (Thailand) Ltd. and constructed by Major Development, The Wind features:

Through Ventilation Design (wind flow in every room)
Private elevators, a proximity screened card system, around-the-clock security
Swimming pool with sundeck, modern gym, steam rooms, dressing rooms and sauna
In order to prevent water leakage, the swimming pool, all bathrooms, the water tank and terrace pool were waterproofed with Penetron (total treated area of 16,686m2).
Vantage Norwest, Bella Vista, Australia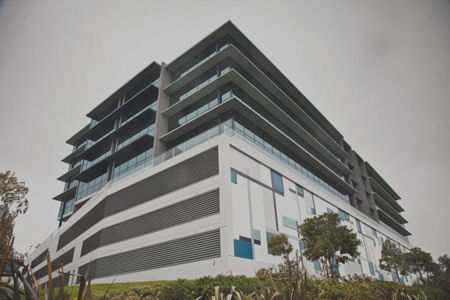 A 5-storey commercial building with many innovative design features, Vantage was built by Presida Constructions Pty. Ltd. on a landmark Norwest location (close to Sydney) boasting regional and mountain views with:

12,278m2 of net office space
3 levels of parking for 569 cars
5 star NABERS energy rating that includes an articulated facade with floor to ceiling double glazed performance glass for energy efficiency
Staff breakout areas, low occupant outgoings, zoned air conditioning and building security.
Penetron Admix was used on over 3,000m3 of concrete; 600m2 of Penetron Plus and 100m of Penebar SW was used for the retention tank, stairs and upstands, planter boxes, ground slab, balconies / sunshades, roof slab, roof shaft and slab, tunnel room north / south and generator room roof.
Hotel Radisson Petra La Dehesa, Santiago, Chile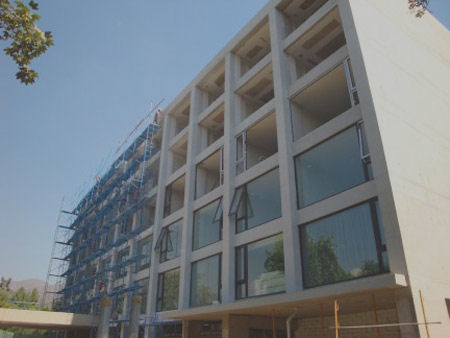 The newest addition to the Radisson chain of hotels, the Radisson Petra La Dehesa Hotel in Santiago de Chile features:

105 luxurious guest rooms with 24-hour room service
Location in Santiago's exclusive residential and commercial district
Indoor pool, Wellness Center, spa,
Business center and meeting hall for up to 200 people
Designed by architect Don Harken Jensen and built by Basalto, the hotel covers a total area of 12,000m2. Penetron Admix was selected to waterproof and protect the below-grade concrete and was dosed at 0.8% by weight of cement at the time of batching.

For other relevant searches, you might want to try: