architecture - engineering - construction
Penetron Protects Sun Marina Town From Saltwater-Induced Corrosion
The first phase of construction of the Sun Marina Town luxury apartment towers in Hạ Long City, Vietnam was completed in April 2022. Residents are expected to move in by December 2023. The Penetron System of crystalline concrete waterproofing products was used to waterproof and protect the below-grade concrete structures of the complex.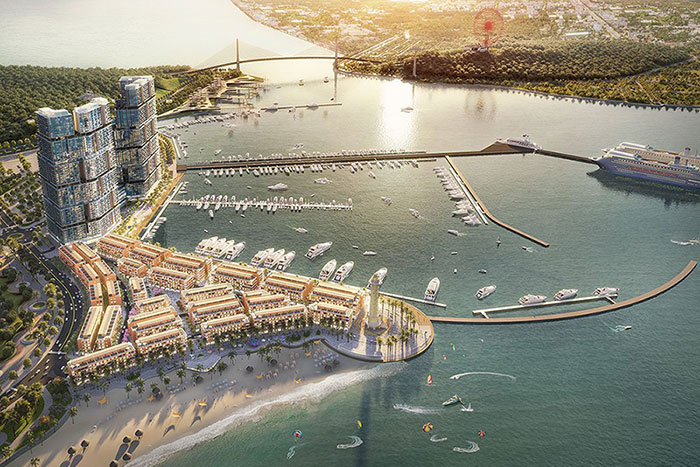 The Sun Marina Town towers are located in Hạ Long City, in Quảng Ninh province, on the coast near Vietnam's northern border with China. A city of around 300,000 inhabitants, Hạ Long was once a coal-mining center but has been transformed into a popular tourist destination, thanks to the unique Hạ Long Islets that dot the coastline.

"The Quảng Ninh coast has much to offer visitors," adds Kim Khanh Ngo Xuan, CEO & Managing Director of Penetron Vietnam. "From Hạ Long City, you can visit hundreds of towering limestone islands in Hạ Long Bay on junk boat cruises. Many of the islands are topped by rainforests with beach resorts or caves, and even floating villages such as Ba Hàng, where houses are built on wooden platforms."

The Sun Marina Town development at the Bai Chay Beach area in Hạ Long City is crowned by two 50-floor apartment towers (built on three basement levels) with an amazing 3,000 apartment units. The luxury apartments include studios (28-33m2), one-bedroom (48-54m2), two-bedroom (61-78m2), and 3-bedroom (83-100m2) layouts, as well as larger, customized penthouses. All apartments are sold fully furnished. The amenities include a business center, an outdoor infinity pool, an indoor pool, a fitness & wellness center, cinema, game center, outdoor playing fields, walking paths, and membership to the adjacent Marina Club.

Monte Carlo Look-Alike
The Sun Marina Town complex also comprises the Sun Marina Plaza, with 230 seafront shops, and 46 outdoor stands, all adjacent to the Marina Club facility, which is modeled after Monaco's Monte Carlo marina.
"The Bai Chay Beach construction site in Hạ Long City had groundwater seeping into the site," explains Kim Khanh Ngo Xuan. "In addition, the seaside environment required a reliable waterproofing solution to protect the below-grade concrete basement structures from both the hydrostatic pressure and corrosion resulting from chloride ion penetration."
Using Proven Concrete Protection
The Penetron Vietnam team worked together with SOL E&C, the project's general contractor, to implement the Penetron System for the below-grade concrete structures for both the Sun Marina Town residential towers and the Sun Marina Plaza shopping area. For the two residential towers, PENETRON, applied as a topical crystalline slurry, was used for the walls of the three basement levels, and PENETRON ADMIX-treated concrete, supplied by BT Quang Ninh, was used for the foundation slabs. PENETRON ADMIX-treated concrete was also used to waterproof the basement structures of the Sun Marina Plaza.
"SOL E&C has considerable experience with concrete waterproofing solutions and applications of crystalline products," says Kim Khanh Ngo Xuan. "We've successfully completed a number of premium projects like Sun Marina Town together. The Penetron System is their preferred crystalline waterproofing solution."
#penetron #waterproofing #concreterepair

For other relevant searches, you might want to try: