architecture - engineering - construction
Prevent Birds From Landing!
Bird spikes, from Bird B Gone, offer an effective and humane deterrent for larger bird species and are available in plastic and stainless steel. We invented and patented the first plastic bird spike and offer highly durable construction that carries the industry-leading Bird B Gone guarantee for all products. The stainless-steel bird spikes are virtually invisible and our plastic bird spikes are available in seven colors. Both options are designed to blend with your building's color scheme and design while providing a cost-effective and long-term solution to deter nuisance bird infestations and protect your property from damage.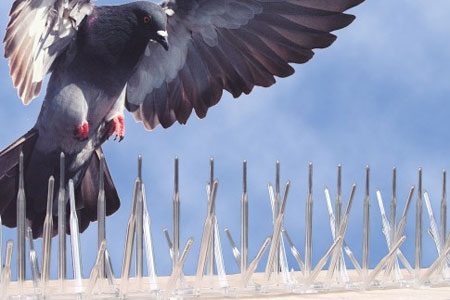 Bird B Gone Bird Spikes are manufactured and constructed in the U.S.A.

Ideal for use on ledges, roof peaks, I-beams, parapet walls, conduits, signs, flat or curved surfaces
Recommended to deter pigeons, seagulls, or larger birds
Humane, will not harm birds
Easy to install; can be glued, screwed, or tied down to most surfaces
Variety of sizes available
Will not cut or injure installer
Glue trough on base of bird spike sections allows for fast and easy application
Pre-assembled two-foot sections significantly reduces installation time
Mega 7" spike option prevents roosting for larger birds like raptors, seagulls, and cormorants
Sun and weather-resistant, even in extreme temperatures
5-year manufacturer's warranty on plastic bird spikes; 10-year on stainless

For other relevant searches, you might want to try: