architecture - engineering - construction
Project Spotlight: The Vue, Beachwood, OH
Products:
Acousti-Mat® II, Gyp-Crete®, Gyp-Crete 2000®/3.2K, Dek C-Ment®

Location:
Beachwood, OH

Maxxon Dealer:
Kent Companies
Columbus, OH

Architect:
WDG Architecture
Washington D.C.

Contractor:
The NRP Group
Cleveland, OH

Scope:

Total of 345,000 ft2 Gyp-Crete 2000/3.2K.
155,000 ft2 Acousti-Mat II topped with 1" Gyp-Crete 2000/3.2K in hard surface living areas.
The remaining 190,000 ft2 Gyp-Crete 2000/3.2K was poured at 1-1/2" throughout bedrooms, closets and corridors.
11,000 ft2 Dek C-Ment and Con-Dek waterproofing system.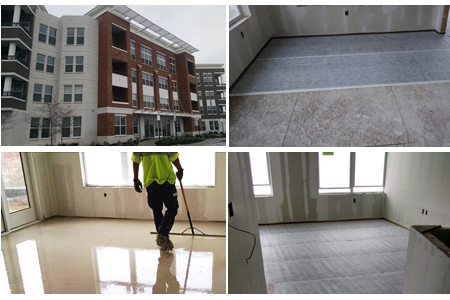 Overview
Kent Companies installed a variety of products in the 345,000 square foot, four-story apartment structure. The Gyp-Crete 2000/3.2K and Acousti-Mat II system helped to increase sound ratings to well above 55 F-IIC while also adding fire resistance to the apartment complex.
On over 144 balconies and a 600 square foot mezzanine on the fourth floor, Kent Companies applied Pli-Dek's Con-Dek system over Maxxon Dek C-Ment. Kent Companies used this decorative coating to complement The Vue's exterior color and styling plan by applying a knockdown and hand troweled texture.
The Kent Companies team coordinated extensive logistics to complete this complex with superior quality and customer service. The team installed 22 semi-trucks of Gyp-Crete 2000/3.2K, which used over 1,500 tons of sand, over 430 rolls of Acousti-Mat II.

For other relevant searches, you might want to try: