architecture - engineering - construction
Proximity Hotel In Greensboro, North Carolina
Project: Operated by Quaintance-Weaver Restaurants & Hotels

Architect: Design and construction led by Dennis Quaintance, CEO of Quaintance-Weaver

LEED: First LEED Platinum certified hotel in America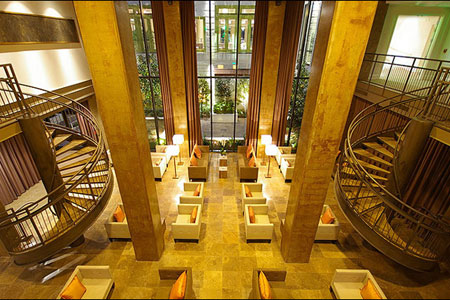 Opened in 2007, this luxury AAA Four Diamond boutique hotel utilized more than 70 sustainable practices during construction. As CEO Dennis Quaintance says, "I would never have believed that we could use 39 percent less energy and 33 percent less water without one iota of compromise in comfort or luxury and with minimal additional construction costs. It just goes to show what a determined team can accomplish if they use common sense and get a little bit of help from the sun."

Proximity is the first LEED Platinum Hotel and has been named the highest rated "Green" hotel and restaurant in America.

Project Description:
$28 million, AAA Four-Diamond hotel uses 39 percent less energy and 33 percent less water than comparable hotels without compromising comfort or luxury. One hundred solar panels provide energy for heating water. The hotel includes the first regenerative drive elevators in North America, generating electricity on the descent for the ascent.

For other relevant searches, you might want to try: