architecture - engineering - construction
Recent Projects at Artistry in Architectural Grilles
New York City Hospital Lobby Project:

Our customer's objective was to have a stainless steel, linear bar grille manufactured to match the finish and style of a newly installed mirror polished stainless steel radiation enclosure within a renovated hospital lobby. Due to security and safety concerns, the grilles had to not only be structurally strong, but also firmly secured to the unit to prevent unintended removal.

Artistry in Architectural Grilles' engineering and manufacturing team designed a custom "C" style frame allowing for secure fastening as well as professional removal to access the unit's controls. This was accomplished with mechanically fastened frames in concert with mechanically fastened removable cores. All of which were given a #8 mirror polish finish to perfectly match the existing convector enclosure.


Custom Curved J-Bead Grille Project:

Recently we were approached by one of our Architect partners to assist with a very unique challenge. They designed a custom ceiling recess with a light fixture access point. To bring HVAC to that area of the room required a grille to match both the curve and the contour of the ceiling. This would mean a linear bar grille incorporating both a top-to-bottom radius and a side-to-side twist.

Our team suggested a J-bead aluminum linear bar grille to create a seamless installation. The J Bead design is quickly fastened to the wall via the outer flange, by either screwing or nailing through the pre-drilled holes. After fastening, the flange is covered with a skim coat of plaster providing a clean, flush appearance. Both the architect and the homeowner were very pleased with the results and how well the grille fit the contour and character of the ceiling.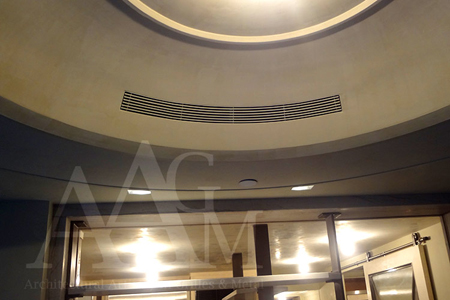 About Artistry In Architectural Grilles:

Our team is known for the highest quality architectural grilles available. We specialize in creating unique, custom aluminum linear bar grilles, bronze linear bar grilles and stainless steel linear bar grilles, perforated metal grilles, architectural metal solutions and decorative hardware. Architects, builders, contractors, designers, mill workers, mechanical contractors, engineers, and homeowners depend on our craftsmanship, creativity, flexibility, responsiveness, competitive pricing, reliability, and steadfast commitment to the successful outcome of their projects.

Both our perforated sheet metal grilles and linear bar grilles are fabricated for new construction, renovations, and restorations for a variety of applications. We invite you to visit the Project Gallery to learn more about our many capabilities and the numerous resources we can dedicate to your project requirements.

For other relevant searches, you might want to try: