architecture - engineering - construction
About Bollards > Stainless Steel
Bollards > Stainless Steel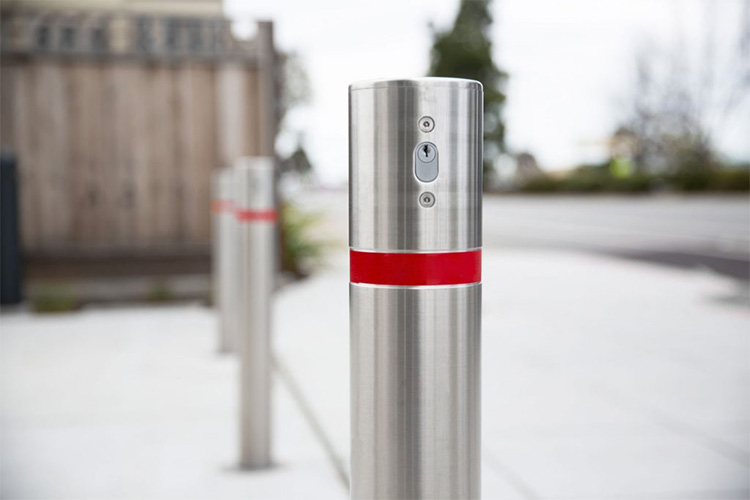 Protection and style from 316 stainless steel
Stainless steel bollards are made from high-quality stainless steel to provide exceptional protection from the elements.
Corrosion Resistance
High-quality 316 stainless steel provides exceptional resistance to corrosion and wear. Reliance Foundry stainless steel bollards are designed to require minimal maintenance, even in high-saline environments with regular exposure to salt-water spray or de-icing salts. View Stainless Steel
Attractive Bollard Design
Stainless steel offers a clean, contemporary aesthetic to complement any landscape or building style. As a value-added option, stainless steel covers can be powder-coated in a range of colors. View Powder-Coated Colors
Versatile Installation Hardware
Stainless steel bollards can be installed in several methods to meet site requirements. View individual product pages for detailed installation options.
Bollard Care
Routine cleaning with soap and water is usually sufficient to maintain 316 stainless steel's corrosion resistance and appearance. Use a soft nylon brush to remove any dirt, wash with mild soap, then rinse in clean water and dry with a soft cloth. Neglected or damaged products may require additional care; please refer to Stainless Steel Care and Maintenance for more details. View Stainless Steel and Maintenance

Brochures | 3-Part CSI specifications | CAD details
For other relevant searches, you might want to try: Safety Bollards, Asset Protection, assets, stainless steel.