architecture - engineering - construction
Restaurant Flooring
Concrete Use is Growing in Restaurant as the Floor of Choice. Restaurants, eateries and other food service establishments are a vital part of the American economy. People today eat out more than ever before, making it important for them to find healthy and well-balanced food in a clean and comfortable environment. There are many factors that come into play for a successful food service establishment, but one that is often overlooked is flooring. When new restaurants open across the country, more are turning to concrete for a finished floor than even before. Here are just a few examples why concrete use is growing in food service flooring.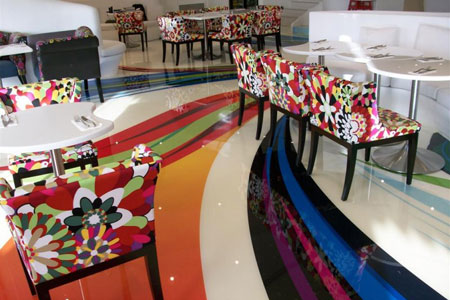 The Functionality of Concrete
First and foremost, concrete flooring is very functional, especially in the food service industry. It is easy to keep clean and maintain, and is a very durable material. Concrete is even environmentally friendly, which fits right in with many restaurants that pride themselves as being green or feature organic ingredients.

Concrete Food Service Flooring is More Sanitary
One of the most important things to anyone that owns a restaurant or operates in the food service industry is cleanliness and concrete offers many sanitary benefits when used as food service flooring. It is easy to wash and maintain, particularly when coated with a non-slip epoxy or smooth coating. Concrete can be swept and mopped easily, and are an ideal surface to install and remove anti-fatigue mats in kitchens and washrooms. They make a clean and inviting dining room as well.

Other types of flooring, such as carpet in service areas or tile in the back of the house, are less appealing. Carpet is harder to keep clean than concrete as food particles and dust can be trapped in carpet and are difficult to remove. Even regular vacuuming will not completely eradicate the debris, which is often sent out into the air through a vacuum cleaner, compounding your sanitation issue. Not mention trying to clean up sticky beverage spills and kids messes.

Also, despite a traditional belief otherwise, tile is not ideal for areas that are prone to excessive water like washrooms and kitchens or around drains. While tile is a generally smooth surface, it is less appealing as a form of food service flooring because of the grout. Grout is very difficult to keep clean and should be treated and sealed to avoid problems. Additionally, grout can often look dirty even if it isn't, especially if it is white or a lighter color.

To minimize your sanitation worries, choose a properly sealed industrial concrete food service flooring that is seamless. By doing so, you will not need to concern yourself with food and dirt falling between cracks or hiding in carpet.

Concrete Won't Compromise Design in Your Food Service Flooring
There have been many developments in design for concrete food service flooring. More than ever before, you will find concrete flooring in beautiful colors and unique designs that will look great in any restaurant.

This is just a small sampling of the benefits concrete has as an option for food service flooring, but the fact remains it is among the most useful and practical in both the front of the house and the back.

For other relevant searches, you might want to try: