architecture - engineering - construction
Shopping, Dining, and Entertainment – in Grand Texas Style
Think big. Then think Texas BIG and you'll get a little closer to grasping the scale of Grandscape, a new mixed-use development consisting of over 400 acres of retail, entertainment, dining spaces, residences, and attractions in The Colony, Texas.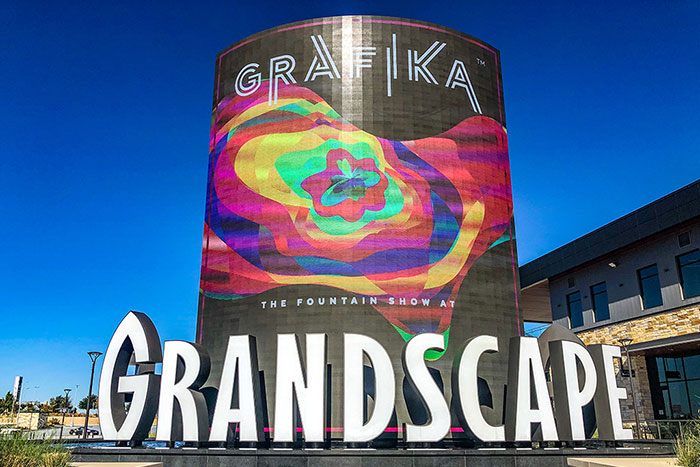 The layout of the space and landscape design ensures that the enormity of the development is warm and welcoming, never overwhelming. Pockets of relaxing spaces and a mix of new-to-market local shops and attractions guarantee Grandscape is a destination where people will want to spend time.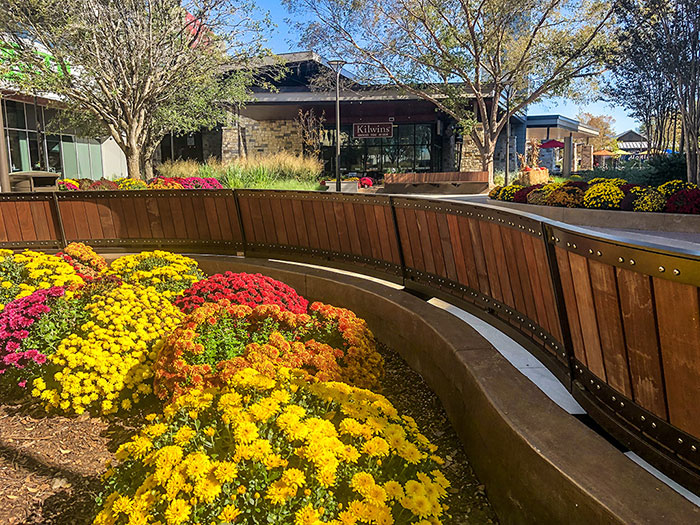 The heart of Grandscape is its 90-acre lifestyle and entertainment center that includes dining, shops, gardens, and pedestrian-friendly corridors on multiple levels, and a blend of public and private entertainment spaces. The main interior courtyard opens onto a large green space where visitors can practice yoga, enjoy live performances, or watch sports on the big screen

Olsson Associates provided civil engineering work and landscape architecture design for the center. A feature of the lifestyle center is the inclusion of mature trees sourced by Olsson to provide a park-like setting and create instant canopy and shade from the Texas sun. These leafy additions create a lush, inviting, and relaxing space seemingly at odds with the scale of the project.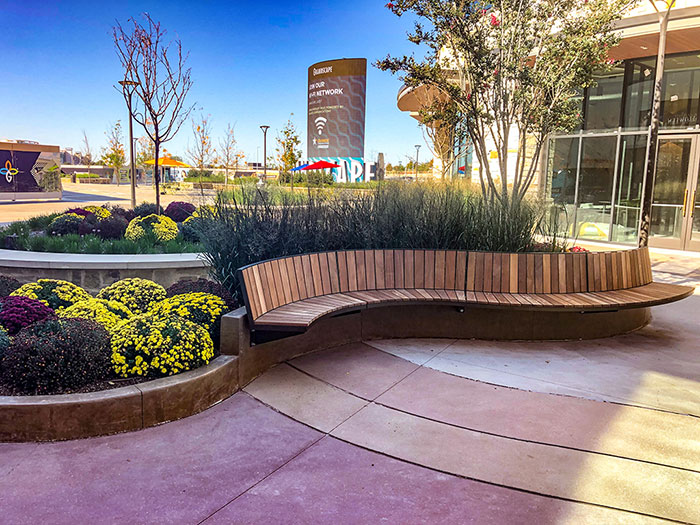 The shopping experience is a play on size with shops with floor spaces as small as 250 square feet. "This area features unique small shops that are local," Grandscape spokesperson Katie Wedekind told Plano Magazine. "We wanted to give them this really cool opportunity and a place to thrive."

On the other end of the range, the sporting goods store Scheels occupies 331,000 square feet and contains a 65-foot Ferris wheel while the vast Nebraska Furniture Mart is 560,000 square feet. The development is designed to "foster more interesting walks across the shopping center," according to Jeff Lind, Grandscape's president. Smaller shops and restaurants were constructed on either side of the entrances to the anchor big-box stores to prevent monotonous long stretches.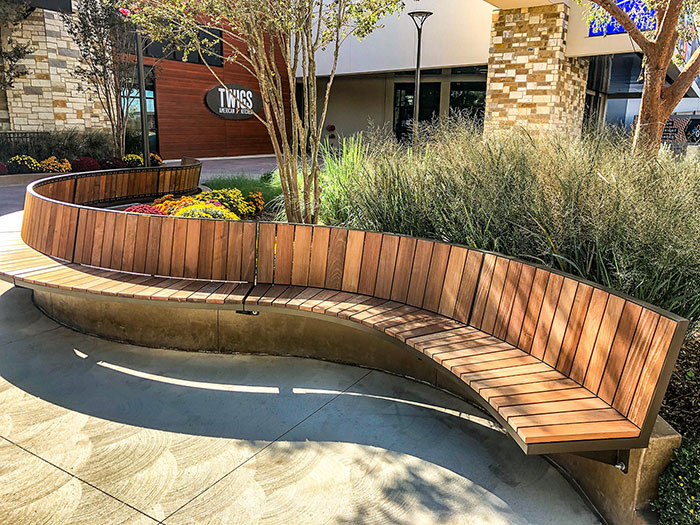 Selected as part of the first phase of the Lifestyle Center at Grandscape, Maglin Ogden Collection curved seating provides a place for visitors to pause and connect amid the action. Customized, backed benches in beautiful Ipe wood slats follow the curve of concrete walls and are fixed in place with a cantilever mounting system. These restful spots, pocket parks, unique water features, overhangs, and patios help to differentiate Grandscape from many of its peers.

"We're trying to be very different," said Lind in The Dallas Morning News. "We wanted to create a space that's different from other lifestyle centers in the area and to give people reasons to keep coming back."
@maglinfurniture #maglinfurniture #maglin #streetfurniture

For other relevant searches, you might want to try: