architecture - engineering - construction
Stainless Steel Waterstop from JP Specialties
Earth Shield® Stainless Steel Waterstop can stop even the most corrosive fluids in their tracks, even at severely elevated temperatures. A variety of metals, grades, and gauges are available.

Earth Shield® utilizes 20 gauge 316 low carbon as our standard alloy, which offers broad-spectrum corrosion resistance to most aggressive media, and is virtually untouched by the deleterious effects of ozone, making it an ideal choice for ozone contactor structures used in modern water treatment plants.

The Primary Choice for Secondary Containment ®" Call "The Waterstop Experts" at 800-821-3859 (951-763-7077)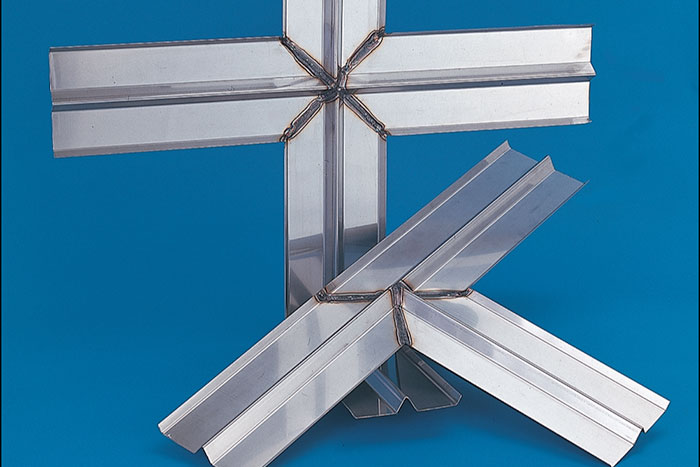 Earth Shield® Stainless Steel Waterstop is available in many standard shapes and sizes, including profiles for new construction and retrofit. All change of direction fabrications can be pre-manufactured leaving only straight butt welding for the field.

Install Earth Shield® Stainless Steel Waterstop in all concrete joints. Waterstop should be centered in, and run the extent of the joint. All changes of directions should be prefabricated (see Shop Made Fittings), leaving only butt-welding for the field. Splices in stainless steel waterstops shall be welded using a TIG (recommended) or MIG process utilizing a welding rod to match the stainless (weld rod: 316ELC; diameter — .035 to .045). Repair damaged waterstops by removing damaged portions and patching.

Patches shall overlap a minimum of 1 inch onto an undamaged portion of the waterstop. Weld all straight run material edge-to-edge (no overlapping). If installed in an expansion joint, assure backside (or open end of the center "V") is covered completely with tape and the annulus (between tape and waterstop) is filled with 7/8" diameter backer rod before concrete pour. The tape and backer rod allows the center "V" to remain open allowing for joint movement. (Tape and backer rod is not necessary for non-moving contraction and construction joints.) More detailed installation instructions are in our Standard 3-part Specifications.

Qualified technical assistance is available during any phase of your construction project.

Standard 3-part Specifications are available at our website in Microsoft Word and Adobe PDF format, and upon request in printed and a variety of computer word processor formats. Call our Technical Sales Staff for additional help with your specification.
@waterstopking #waterstopking #waterstop #dewalt #concrete

For other relevant searches, you might want to try: