architecture - engineering - construction
Stone Panels at Robert T. Matsui Courthouse, Sacramento California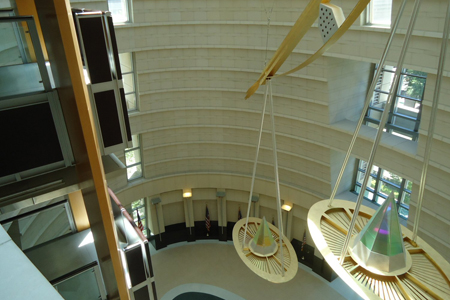 The combination of StoneLite® natural stone, state-of-the-art computer-aided design, and CNC machining to cut the oblique shapes, allowed the creation of the architect's design intent for the 27 story rotunda of the Robert T. Matsui Federal Courthouse in Sacramento, CA.

More than 9,000 different StoneLite® Valders Dolomite pieces, each having a slightly different size and different trapezium shape, clad the sloping walls in this elliptic, ever-changing radius room.

Each panel was drawn to scale using Autocad and then programmed into the CNC machine to be cut to their specific dimension. Each piece was labeled with it's individual location and shipped to the jobsite. All of the pieces fit exactly as planned into this geometric design.
@StonePanelsIntl #StonePanelsIntl #StoneLite

For other relevant searches, you might want to try: