architecture - engineering - construction
Stylish, Versatile, Easy-To-Install Trellises to Expand Your Gardens Vertically
Drawing from our vast experience with aluminum frames and stainless steel cables, rods, and fittings, we have developed a collection of simple and attractive wall mounted and freestanding trellises to enhance any home or commercial landscape setting. They're perfect for displaying light to medium-weight foliage and offer simple, elegant design details with exceptional versatility and easy installation.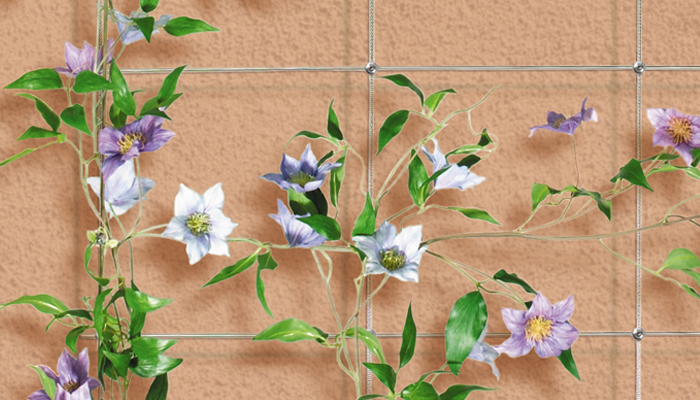 3-in-1 Trellis
Three stylish configurations in one kit
The 3-in-1 trellis is a complete easy-to-assemble, all stainless wall mount trellis kit with 1/8" diameter rods and special mounting components that can be configured into any one of 3 trellis design layouts (Fan, Grid, or Diamond), or you can create your own designs.
Rods come in 48" lengths that can be spliced together using Connector Tubes (included), and they are supported by specially designed 2" Stand-Off fittings that screw into the wall. Micro Cross-Clamp fittings securely hold intersecting rods in position using locking setscrews. All rods and components are made from high quality 316-grade stainless steel for weather-tough durability, low maintenance, and lasting beauty.
Kits include all mounting hardware and installation instructions for building any one of the 3 standard layouts, plus a time saving layout template.
Product contains recycled materials.
Somerset II Trellis
A lighter, sleeker wall mounted trellis
The Somerset® II trellis is designed for easy mounting onto walls or fences. It consists of two 40" long powder-coated aluminum brackets, top and bottom, that screw to the wall face and support a lattice of four vertical 1/8" diameter stainless steel cables and five horizontal 1/8" diameter rods.
The support brackets can be spaced from 2 to 6 feet apart to fit a variety of wall heights, and patented adjustable Quick-Connect® cable attachment fittings allow the cable assemblies to be easily trimmed to exact size. Special Micro Cross-Clamps with locking setscrews securely hold the rods in position.
Multiple kits can be mounted adjacent to one another to make wider trellises, and each kit includes all mounting screws, hardware, and installation instructions. We still offer the Somerset® I kit for heavier duty applications.
Product contains recycled materials.
Greenway Freestanding Trellis
A freestanding trellis panel kit
The Greenway Trellis (43"w x 72"h) is made from 1-1/2" diameter aluminum tubing sections, available in a variety of durable powder-coated color finishes. The pre-cut tubing sections are easily assembled using connecting splice sleeves and screws.
Four 1/8" diameter stainless steel cables with adjustable threaded end fittings are strung vertically on the frame, and they support four 1/8" diameter stainless steel rods that are attached horizontally using special Micro Cross-Clamps with locking setscrews.
The rods may be positioned anywhere along the cables, but the recommended spacing is 11-1/4" apart. The frame legs can either be set in compacted gravel or concrete footings, or they can be trimmed and fitted with surface mount Base Plates (sold separately).
Multiple panel kits can be combined in a variety of ways to create the landscape effect you desire. Kits include all necessary hardware and installation instructions. Product contains recycled materials.
@FeeneyInc #FeeneyInc #feeney #metal #cablerail #designrail #cablerailing #trellis

For other relevant searches, you might want to try: