architecture - engineering - construction
TecVision® - Engineered Screen Technology
TecVision surfaces have been engineered with unique properties that are unmatched in the industry. They offer unparalleled performance and have features that set them apart from the competition.
TecVision surfaces surfaces are 4K ready to ensure optimal image performance under the highest resolutions
All TecVision surfaces are ISF Certified for optical color accuracy and fidelity by the Imaging Science Foundation. No other line of viewing surfaces in the AV industry can make this claim!
TecVision surfaces have better off axis performance than competition with similar product specifications
TecVision surfaces offer minimal variance in gain spec and optimal uniformity
TecVision grey surfaces offer better ambient light performance qualities (XH900X Grey and MS1000X Grey)
TecVision surfaces feature carefully formulated light absorbing dark backing which prevents picture degradation from light behind the screen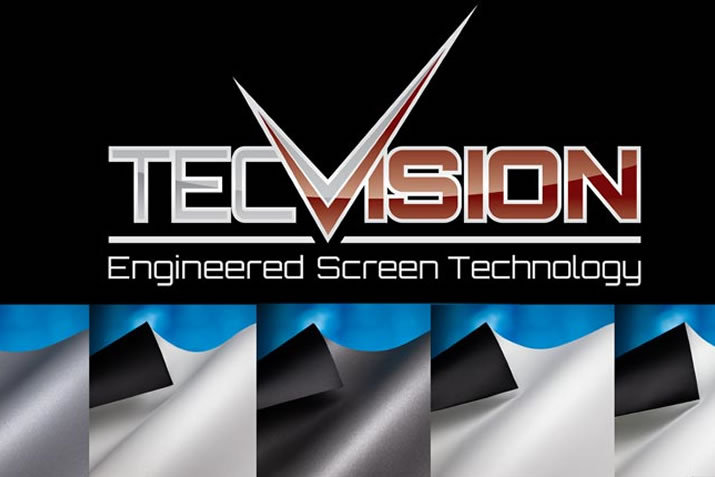 TecVision™ has been recognized with many awards this year, and last year. Honors have been received at six trade shows since InfoComm 2014, three in the US, two in Europe.
2016 ISE Best of Show from AV Technology Magazine
2016 ISE Best of Show from Installation Magazine
2016 Top New Technology (TNT) @ ISE Award from CEPro, Commercial Integrator, and Tech Divisions
2015 Innovative Product Award from Sound& Video Contractor Magazine
Best of Show, InfoComm 2015 - Sound & Video Contractor Magazine
Best Video Projection Screen 2015 - Commercial Integrator Magazine
Smart Building Awards 2015: Best Projector Screen - Essential Install Magazine (UK)
Best of Show, ISE 2015 - AV Technology
Best of Show, ISE 2015 - Residential Systems
Platinum ADEX Award 2015 - Design Journal
Bold Engineering 2014: 30 Innovative Products - Sound & Video Contractor Magazine
ExC!te 2014 - Technology Integrator Magazine
Best of InfoComm 2014 - rAVe Publications
Best of Show, InfoComm 2014 - Government Video Magazine
A New Reality in Picture Quality
In recent years projectors and projection technology have been advancing quickly.
Draper has worked to advance our screens as well. We have focused resources on product design, with innovations like the Access family of motorized screens, improved tab tensioning system and revolutionary modular portable screens.
A few years ago we moved our primary focus to the surfaces themselves, and their optical performance. We built a world class testing lab, and worked with consultants and key suppliers to identify and refine ingredients to improve the optical performance of our surfaces. Since then we have introduced 16 new surfaces to address specific needs in the marketplace. And we developed the new standard in surface planning tools, the Draper Projection Planner. You can gain access to this and other great tools by registering for the Draper Pro Portal in the Login links above.
There are few companies in the world who are experts in designing projection screen surfaces. Most screen fabrics are made by firms whose primary business is manufacturing textiles for other purposes. We have made a major investment in equipment, expert personnel and research time specifically to offer a line of revolutionary new surfaces that are unmatched by any other screen manufacturer in the world.
TecVision™ Engineered Surface Technology is currently offered in eight exclusive formulations on Draper tab tensioned and permanently tensioned screens. Five white surfaces are available with gains ranging from 0.7 to 1.8 across remarkably wide viewing cones. Three ambient light rejecting grey surfaces offer excellent performance under higher room light levels.
These premium surfaces are not sold online and are only available through qualified Draper dealers.
Optically Seamless Technology
With new Optically Seamless technology, TecVision screen surfaces are now available in sizes as large as 23' high by 67' wide, depending on the model. Screens larger than 12' high may be fused with Draper's exclusive Optically Seamless process. Draper warrants that the fusion will not be seen, with or without projection, from distances of five feet or more.
White Paper - Optically Seamless Technology (pdf)
TecVision Surfaces are available on these Draper Projection Screens
Access FIT/Series V
Access/Series V
Access XL/Series V
Access MultiView/Series V
Artisan/Series V
Clarion
Edgeless Clarion
FocalPoint
Lace & Grommet
Onyx
Paragon/Series V
Premier
Premier/Series C
Profile
Shadow Box Clarion
Signature/Series V
Silhouette/Series C
Silhouette/Series V
StageScreen
Truss Cineperm
Ultimate Access/Series V

For other relevant searches, you might want to try: