architecture - engineering - construction
The Many Uses of TPV Waterstop
Railroad and Airport Fuel Farms, Terminals, and Wash-down Stations One of TPV waterstop's primary uses is as a fuelstop. Unlike PVC, Earth Shield® TPV waterstop contains no plasticizers to leach out when exposed to hydrocarbons, so it doe not become brittle and craze. Some swelling can occur and a minimal amount of physical properties depreciate, but overall, Earth Shield® TPV is an excellent choice for these fuel related applications.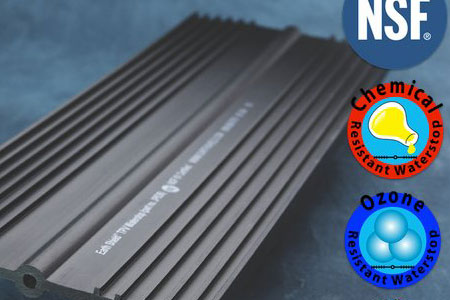 Ozone Contactor Structure

In 1998 the U.S. EPA designated the pathogen cryptosporidium as being harmful to human health and therefore, must be eradicated from the nation's drinking water supply and storage. Because PVC waterstops fail in high concentrations of ozone, other waterstops were needed to fill the void. Initially, stainless steel was the Engineer's choice material, but after rigorous testing, Earth Shield® TPV waterstop is now the primary chosen material for ozone contactor structures. Earth Shield® TPV waterstop is suitable for applications up to six parts per million ozone concentration.

Mines and Minerals

Earth Shield® TPV Waterstop is installed all over the world in mines — from bauxite in Brazil to copper in Arizona and Australia. Earth Shield® TPV Waterstop has outstanding resistance to 98% sulfuric acid, making it the ideal choice for a variety of mines and their associated processes.

Refineries and Basic Chemicals

Earth Shield® TPV Waterstop has broad spectrum resistance to a variety of aqueous solutions and chemicals. It can be certified for most of the HazMat found in CFR 261. We maintain a large database of tested chemicals on-line that can be found here..

Other Applications

NSF 61 certified safe for drinking water, GreenSpec® Listed, PVC replacement, non-toxic, no BPAs, highest physical properties... As you can see there are many fine additional reasons to specify Earth Shield® TPV Waterstop.

For other relevant searches, you might want to try: