architecture - engineering - construction
Therma-Floor: The Ideal Underlayment for RadiantFloor Heat
Therma-Floor® is a gypsum underlayment by Maxxon® Corporation designed specifically for radiant floor heating systems. Poured over hot water tubes or electric heating cables, it's the ideal thermal mass for any radiant floor system.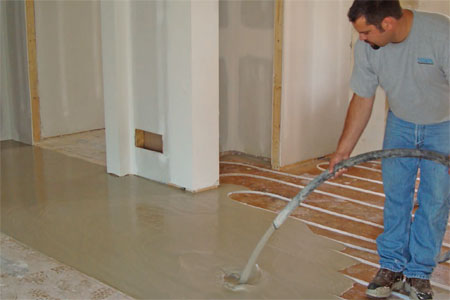 Therma-Floor encases the tubes or cables in noncombustible gypsum specially formulated to resist breakdown to 150 ˚F (66 ˚C). Poured only 11⁄4" (32 mm) thick, Therma-Floor also makes your heating system more stable — and your home more comfortable.

Some radiant systems install under plywood subfloors resulting in lost heat, as plywood is nearly 4 times more insulative than Therma-Floor. Therma-Floor works above the subfloor for greater efficiency and consistent comfort. Therma-Floor is an eco-friendly building product, and is GREENGUARD and GREENGUARD Gold certified.

WHY A RADIANT FLOOR HEATING SYSTEM ISN'T COMPLETE WITHOUT THERMA-FLOOR:
Resists heat deterioration — it's formulated specifically for radiant floor heating
Enhances heating system responsiveness due to its thin thermal mass
Provides a smooth, tough surface
Stiffens the floor
Seals perimeter walls, keeping out baseboard drafts
Eliminates squeaks and nail pops common to wood underlayments
Muffles sound transfer
Backed by a nationwide applicator network with over 4 billion square feet of installation experience
Accepts virtually all floor coverings
Contains no urea formaldehyde

For other relevant searches, you might want to try: