architecture - engineering - construction
THIN-FINISH™ Pre-Mixed Overlay
THIN-FINISH™ is an extremely versatile, high strength, polymer modified, cementitious topping material and bond coat formulated and engineered for thin resurfacing, overlaying, reducing surface defects, concrete surface restoration, texturing and creating decorative finishes on stable concrete surfaces.

THIN-FINISH™ is a pre-packaged, "just add water", overlay material consisting of a proprietary hybrid redispersible polymer blend, graded quartz aggregates and white cement to create a polymer cement overlay material that cures to create a hard, abrasion resistant wear surface.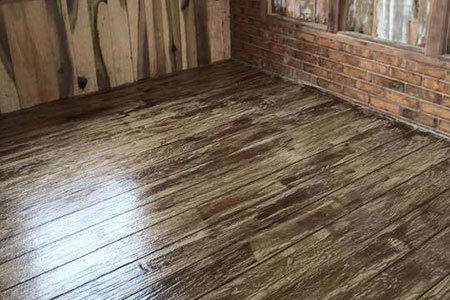 "Wood floor" made from polymer modified cement overlay THIN-FINISH™. Applied about 1/8" thick to existing concrete surfaces.
THIN-FINISH™ is designed to create durable finishes for concrete thin patching, resurfacing, overlaying, reducing surface defects and texturing stable concrete surfaces. Typical applications include interior or exterior commercial, industrial and residential concrete surfaces for renovation or new construction.

THIN-FINISH™ is used as the base/skim coat to all overlay applications including but not limited to; thin stamped overlays, textured trowel finishes, broom finishes, splatter textures, knockdowns and smooth floor finishes.

THIN-FINISH™ offers many advantages over most overlay materials including better abrasion resistance, higher levels of strength and durability, excellent weather resistance such as resistance to moisture, UV and freeze/thaw cycles and is available in a wide variety of colors and color combinations. It can effectively be applied from 1/32" to 3/16" / 0.8 mm to 4.8 mm thick with a cured compressive strength exceeding 4,500 psi (31 MPa) after 28 days, allowing heavy commercial traffic without wear or damage.

THIN-FINISH™ is designed to be extremely easy to mix and install while proving very economical and cost effective. Once the surface has been properly cleaned and prepared, simply add the material to the recommended water volume, mix well and apply. It is designed to give a longer workability time compared to most other materials to ensure proper finishing and attention to detail.

THIN-FINISH™ can be applied by trowel, squeegee or with an air supplied hopper gun and can effectively be layered to create additional thickness when needed. Additional benefits as compared to concrete include increased flexural strength which decreases the brittleness of the surface and increased resistance to moisture, for above or below grade applications.

LIMITATIONS
The use of partial bags is not recommended. Some components may settle during shipping. Use the entire contents of the bag for consistency. One coat of THIN-FINISH™ is never sufficient for any application as a finished surface.
THIN-FINISH™ is engineered and designed for structurally sound, stable concrete surfaces. Not all concrete surfaces are suitable for the installation of THIN-FINISH™. Those surfaces which are not suitable include; concrete that has not cured for at least 28 days, concrete with severe vapor emission problems, surfaces which are gypsum based and lightweight concrete. THIN-FINISH™ surfaces are not intended for use in areas subject to metal wheels, track or rollers without protective sealer or coating.
THIN-FINISH™ is not intended for use in areas subject to constant water immersion or water leaks. If installation is desired in areas of harsh chemicals and/or testing, a special protective coating may be required. THIN-FINISH™ is not intended for use as a crack repair product. Existing cracks must be repaired and all existing expansion joints must be honored. All concrete surfaces must be properly cleaned and prepared. Failure to remove contaminants or existing coating may result in loss of adhesion, delamination and product failure.
Recommended application temperature for THIN-FINISH™ is between 40°F and 90°F / 4°C and 32°C. If the temperature is forecast to drop below freezing within 24 hours after the application of THIN-FINISH™, do not proceed.
Download the Product Sheet

For other relevant searches, you might want to try: