architecture - engineering - construction
Thomas Steele Nakoma™ Table Set: A Modern touch to your outdoor dining area
Bring people together around a Thomas Steele table. Our handcrafted café, picnic, and bistro tables set the standard for quality construction, durability, and design. With 20 family styles and the option of coating your piece in our patented e-Steele™ finish, there is a Thomas Steele table that will meet your needs and expectations.

Nakoma™ Table Set
Our Nakoma™ table sets will add a modern touch to your outdoor dining area. Nakoma table sets are constructed with the following materials; 2" x 3" and 3" x 4" Ipe wood profiles with a formed steel frame.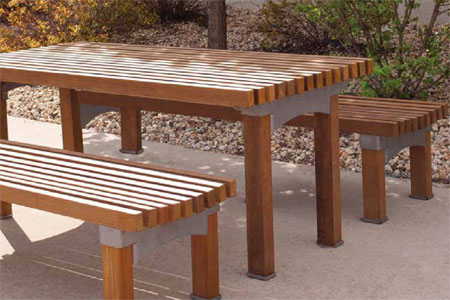 Material/Color
Ipe:
Pronounced "ee-pay," this olive-brown wood from South America weathers to a beautiful silver grey. Three times harder than oak, ipe is the perfect choice for outdoors, where it resists weather, heavy use and vandalism.
Models
NATP-6S
Description: 6-Ft. Picnic Table and Seats
LxHxD: 70 x 30 x 78
Weight: 510
NATP-8S
Description: 8-Ft. Picnic Table and Seats
LxHxD: 94 x 30 x 78
Weight: 679
NATP-8HCS
Description: 8-Ft. Picnic Table - ADA - 6-Ft. Seats
LxHxD: 94 x 30 x 78
Weight: 620
Get a quote Now!
About Thomas Steele
When you want quality site furnishings, turn to Thomas Steele.
In 2000, Thomas Steele was formed by Graber Manufacturing, Inc. and since then, our craftsmen have been creating site furnishings that stand out for their stylish designs, broad palettes of color, and exceptional handcrafted quality. We offer much more than superior site furnishings however, and can help you:
Save time and money. Spending just a few minutes on our website can save you hours of research—and in the end, installing durable and long-lasting Thomas Steele site furnishings will eliminate the need to replace furnishings frequently.
Give a distinct personality to your environment. With 20 different family styles and custom designs available, adding a Thomas Steele piece to your project will not only turn heads, but also keep your property competitive.
Make your community more pedestrian-friendly. Adding quality Thomas Steele benches, trash and ash receptacles, and planters to any area not only encourages pedestrian traffic, but also contributes to the cleanliness and beauty of an area for residents and visitors.

For other relevant searches, you might want to try: