architecture - engineering - construction
TRACO TR-700 Window Wall
Sleek aesthetics, strength and substantial thermal performance are a few of the reasons the TR-700 window wall is specified by architects and building owners alike. With a range of configurations and finish options as well as flexibility in installation, the TR-700 window wall platform delivers a tremendous performance-to-value ratio.

Made from aluminum, this high-performing window wall is versatile enough to blend into historic applications and contemporary enough to add a unique element to new construction. A 4-5/8" frame depth provides extra coverage for larger wall cavities, while an integrated thermal break effectively separates the interior from the exterior. With the TR-700 window wall, you don't have to sacrifice aesthetics or performance to achieve your design vision or meet code requirements.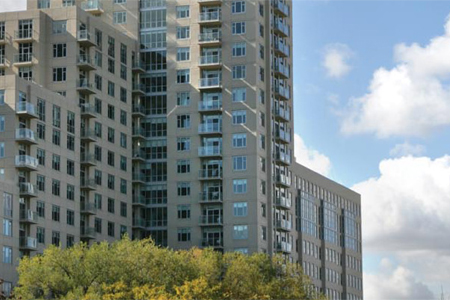 The Admiral at the Lake, Chicago, Illinois, USA
Performance
Traco's commitment to providing high-performing thermal solutions is underscored with the TR-700 window wall. Standard 1" insulating glass enhances thermal performance. And, thermal efficiency makes the windows ideal for buildings seeking to earn Leadership in Energy and Environmental Design (LEED®*) certification points with the U.S. Green Building Council (USGBC).
The system can be pre-engineered and pre-glazed, eliminating much of the labor and time spent on site. For increased durability, the TR-700 window wall offers a 1/8" wall thickness. A dual glazing option creates additional interior comfort. Window vent corners are reinforced with gussets before crimping, while vent members are double tubular extrusions.
The TR-700 window wall features a vent and frame design that negates air infiltration and water penetration under the most severe weather conditions. Aluminum construction not only provides structural integrity, but the windows will never rot, warp or buckle due to moisture and weather exposure, and they attain outstanding condensation resistance. The windows are fully tested and meet or exceed the minimum requirements for the Architectural Window (AW) performance class and have been life-cycle tested to the AAMA standard. In addition, this window series delivers outstanding air, water and structural performance, making it ideal for new and retrofit applications.
Aesthetics and Versatility
Featuring a slab-to-slab application and an integrated slab edge cover, the TR-700 window wall delivers a sleek and streamlined appearance, providing an appealing look for any application type.
With several window configurations available – including casement, projecting and fixed – this versatile architectural-grade window features a 4-5/8" frame depth and uninterrupted sightlines for increased aesthetics. Curved wall capabilities also increase design flexibility. An optional concealed vent maintains a neat appearance. Additional features include a structural three-piece mullion and male/female connection. The windows' receptor and subsill fully integrates installation. Terrace and sliding doors are available as well.
*Painted or anodized finishes are available in many standard choices.

For other relevant searches, you might want to try: