architecture - engineering - construction
News
ULTRA-TEC Cable Railing Inside and Out
This cable railing project was sold through Absolute Distribution Inc. (ADI), an Ultra-tec wholesaler in Minneapolis, MN. ADI has been involved in impressive Ultra-tec Cable Railing projects over the years. This project showcases Ultra-tec® as an interior and exterior railing solution.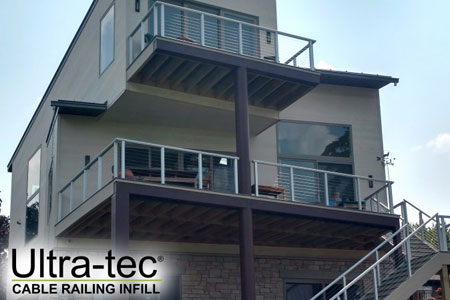 Jim Tapp, Business Development at ADI, shared some notes about the project. He spoke to the homeowners who said they were "very happy and thankful for how the project had come together. The open staircase" (which features Ultra-tec® Cable Railing) "is the focal point of the main floor as the lot is narrow." He also mentioned that "the installers who welded the stair system said they had maybe used cable a couple times but liked the way Ultra-tec looked and fit in the project."

Jerry of 1st Street Builders & Remodeling, which installed the level railings, also answered a few questions about the project.

Q. Is this the first time you have used cable railing in any of your projects?
A. No, we have used your product on 5 projects.

Q. What are some of the challenges you have faced when using cable railing?
A. No challenges, everything is ordered to fit from the company (Absolute Distribution, Inc.).

Q. Were there any other railing infill options that you looked at with the homeowner? In the end what was the main reason you chose Ultra-tec®?
A. Yes, but we chose your product because it didn't restrict any of the view.

Q. What was your overall experience with Ultra-tec® Cable Railing?
A. Any questions we had were answered/solved by the company (Absolute Distribution, Inc.).
URL:
http://thecableconnection.com/ultra-tec/about/success-stories?utm_content=buffer02606&utm_medium=social&utm_source=facebook.com&utm_campaign=buffer
For other relevant searches, you might want to try: