architecture - engineering - construction
Unicel Architectural Timber Curtain Wall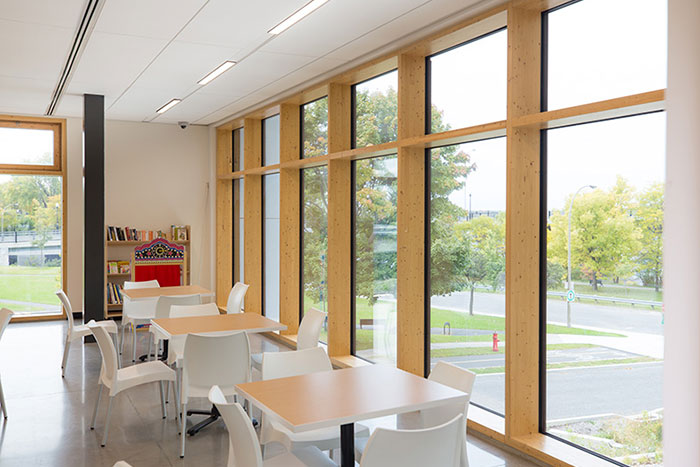 Unicel Architectural is an official designer and fabricator of German engineered RAICO Therm+ timber curtain walls. They're made of North American wood and are passive-house certified, providing an aesthetically pleasing way to match your contemporary design vision while improving natural daylighting and contributing to any high performance or Net Zero building construction.

Timber curtain walls combine lightweight and elegant design with Insulating Block Technology for superior thermal insulation, wind resistance, and greater air tightness than any other curtain wall product on the market. Their versatile timber connectors allow installations on buildings with steel, concrete, or timber frames.

Outfit your timber curtain walls with Unicel Architectural's Vision Control® advanced louvered glazing technology or ViuLite® integrated blinds, for unprecedented comfort and control of vision, light, temperature and sound.

System Features
Efficient thermal insulation to Passive House certification with Um,t = 0.80 W/(m²K) (0.14 Btu/hr-sq ft °F)
System width: 50/56/76/96 mm (2", 2-3/16", 3", 3-3/8")
For timber profiles from 50mm (2") wide
Infill thickness: 6mm to 64mm (1/4" to 2-1/2")
Glass weight: up to 600kg (1320 lbs)
Drainage levels: 2 or 3
Glass roof application down to 2° inclination
Key Benefits
Aesthetically pleasing, by combining the warmth and elegance of wood with glazed facades
Clean sightlines extend the interior space to the outside
Support design visions including the expansive use of glass
Promotes natural daylighting for a sense of well-being among occupants
Thermal insulation for passive solar heating
Load bearing capabilities
@UnicelArch #UnicelArch #UnicelArchitectural #Aluminum #Glass #Louvers #Glazing #Skylights

For other relevant searches, you might want to try: