architecture - engineering - construction
Urban Loft Style Office In Australia Specifies Penetron Technology
Construction of the stylish 96 Eugaree office building in Southport (QLD), Australia, was completed in July 2023. PENETRON ADMIX, a crystalline concrete waterproofing admixture, was used to protect the below-grade concrete structures.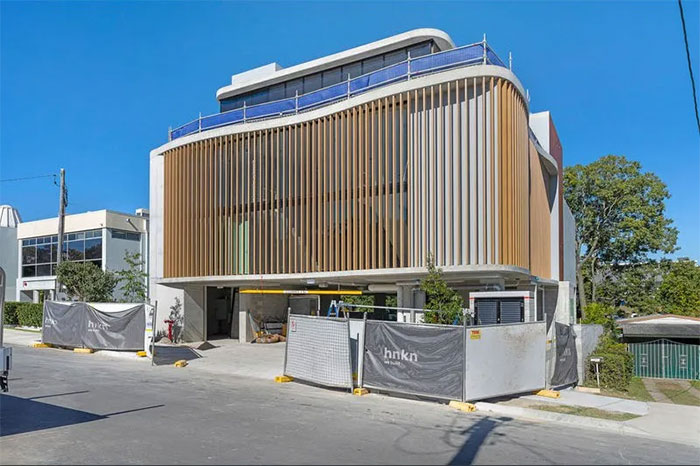 The 96 Eugaree office building shows off a "coastal modernist" look and offers 1,065 m2 (11,715 ft2) of office space and a covered parking garage.
Located 73 km southeast of Brisbane, Australia, Southport is a coastal suburb and the commercial and administrative center of the much larger city of Gold Coast – the sixth largest city in Australia. Situated around the Broadwater (at the mouth of the Nerang River) and sheltered from the ocean by a long, narrow sandy promontory ("The Spit"), Southport is home to over 32,000 people.

"Southport is a curious mixture of luxury accommodations, attractive parks, tourist attractions, and a remarkably quiet beach," adds Jozef Van Beeck, Director of International Sales & Marketing for The Penetron Group.

An A-grade office building, located at 96 Eugaree Street in the center of Southport, 96 Eugaree features a striking "coastal modernist" design. The three-level building offers 1,065 m2 (11,715 ft2) of office space on two floors, including 19 covered parking spaces on-site. During the planning phase of construction, the project manager at hnkn Construction contacted Penetron Australia about the need for excellent durability of the project's below-grade concrete structures, in particular, the elevator pits.

"The force of groundwater, or hydrostatic pressure, is powerful and unremitting. While it's unlikely to lift the foundation of a building like 96 Eugaree, it can seep into exposed concrete through cracks and joints, permeating the concrete matrix over time," explains Jozef Van Beeck. "To keep groundwater from deteriorating the foundation, a concrete mix resulting in impermeable concrete structures – and capable of resisting water migration – was needed."

PENETRON ADMIX, a crystalline waterproofing admixture, was specified and added to the concrete mix by Hanson Concrete, the projects ready-mix concrete supplier. PENEBAR SW swellable waterstops strips were also installed to permanently waterproof the construction joints.

Once added to the concrete mix, the active ingredients in PENETRON ADMIX react in a catalytic reaction to the moisture in concrete. This reaction generates a non-soluble crystalline formation throughout the pores and capillary tracts of the concrete. The entire concrete matrix is now impermeable, stopping the penetration of groundwater and moisture from any direction.

"Thanks to PENETRON ADMIX, the concrete structures at 96 Eugaree will also be able to self-heal micro-cracks for the service life of the treated structure," adds Jozef Van Beeck. "This will effectively minimize any future waterproofing related maintenance costs for the Southport building."
#penetron #waterproofing #concreterepair

For other relevant searches, you might want to try: