architecture - engineering - construction
Viulite: Insulating glass with integrated premium quality blinds
ViuLite® is a system of blinds that are permanently sealed within a double-glazed cavity for a completely dust-free and maintenance-free environment. ViuLite® ensures total protection against dirt, germs and weather conditions.

ViuLite® provides protection from solar radiation and can quickly regulate the internal environmental lighting levels. It filters light transmission and controls the effects of daylight with a simple tilting of the blinds. Heat and visual comfort are easily adjusted to accommodate the changing seasonal conditions.

Hermetically sealed, ViuLite® Venetian blinds are produced with 1/2" (12.5mm) wide aluminum slats featuring a choice of colors. The versatility of both product choice and control mechanisms makes ViuLite® suitable for all types of framing systems.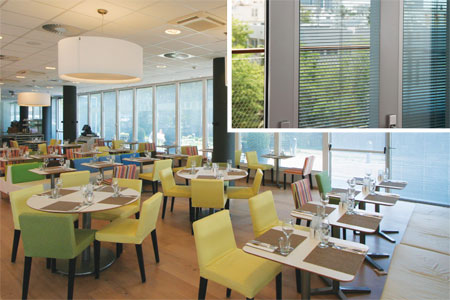 Applications
Unicel provides various aluminum framing systems, glass stops, and door trim kit options to glaze Viulite® in:
Interior partitions
Sidelights
Doors
Windows
Curtain walls
Features
Made with industry-leading ScreenLine® technology, 100% original Pellini Design
Custom-manufactured with any glazing types (tempered, heat-strengthened, tinted, laminated, wired, polycarbonate, leaded, glass-clad polycarbonate, and more)
Warm-edge spacers for enhanced energy efficiencies
Argon filled airspace for up to 25% in U-value improvements
27/32" (21.4mm) airspace to fit into tighter glass pocket depths
Between-glass-blinds can be readily installed in exterior and interior applications
SL20A/SL20C/SL20P/SL20B/SL20S/SL20M models available
Options for both external and internal motors
Electric accessories are available for control networks
Standard warranty: 5 years on blinds (10 years with premium), 2 years on electrical accessories
Supported by Unicel's 50+ years record of exemplary customer service
Benefits
Blinds are sealed in an insulating glass unit for a germ-free, hygienic environment with reduced risk of infection and allergies
Enhanced solar shading features, blocks unwanted glare, heat, and harmful UV rays
Blinds can tilt and raise (tilt-only also available)
No cleaning or maintenance required
Protected from damage unlike exterior blinded systems
Variable control of vision (the blinds can be angled such that vision is permitted from one area to another, but limited in the opposite direction)
Esthetically pleasing design element for daylight and vision control
Performance Values Superior to Regular Insulating Glass Units (IGU) and Variable Solar Heat Gain Coefficients (SHGC)
View Technical Specifications
View a variety of Operators

For other relevant searches, you might want to try: