architecture - engineering - construction
News
Water Tight Well Hatch, 625psf
Babcock-Davis' Water Tight Well Hatch is designed for water-tightness up to 10 foot water column and 625psf load capacity. With waterproof gaskets and pressure locks, this hatch design is ideal for wells and areas prone to flooding.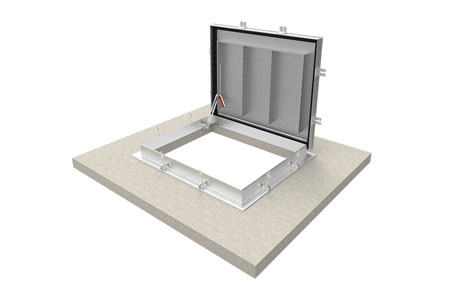 FEATURES
PRESSURE LOCKS
Constructed with pressure lock latches with wing nuts to securely fasten the hatch lid closed.
GASKET
A water and odor resistant, EPDM rubber gasket seal is applied around the perimeter of the cover.
DETAILS
LOAD
625psf live load
MATERIAL
Aluminum: 1/4 inch, mill finish with gray primer on exterior frame
COVER
Diamond tread plate
FRAME
Angle
INSTALLATION
Surface mount, mechanically fastened: field drilled by others
SPRING
Coil Type 17-7 SST enclosed in Type 316 SST telescopic tubes
HINGES
Heavy duty Type 316 SST butt hinges
HOLD OPEN ARM
Type 316 SST automatic hold open arm locks cover in open position
LATCH
Type 316 SST pressure locks
CERTIFICATION
Tested to 10 foot hydrostatic pressure
Download Specifications Sheet
URL:
https://www.babcockdavis.com/products/floor-doors/water-tight
For other relevant searches, you might want to try: