architecture - engineering - construction
What's New in 2015 for Draper Projection Screens and Related Products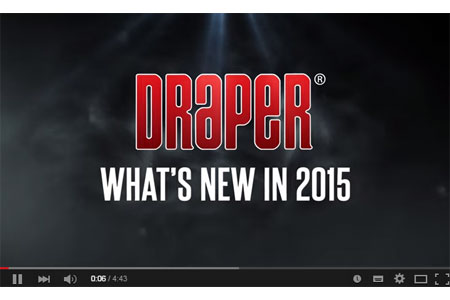 Check out Draper's new or updated projection screen and related products in 2015!

2015 is a great year to be a Draper dealer. Check out Draper's new or updated projection screen related products this year, which include:

Our all new Access Fit projection screen and updated Access projection screen


Our new LVC-IV low voltage control system


Updated AeroLift Motorized Projector Lifts


New Curved Edgeless Clarion & Shadowbox Clarion projection screens


Updates to our Tecvision™ Engineered Screen Technology line of viewing surfaces


Our new Screen Boom motorized screen mounting arm


New FocalPoint™ fly brackets for suspended installation


And the Draper Pro Portal, where you'll find powerful tools for AV professionals
First up, our all-new
Access FIT projection screen
. Access FIT utilizes the same rugged components as larger Access screens, but is engineered to fit into tight openings above the ceiling, with a case height less than 6" tall. Access Fit offers screen sizes up to 120" wide in image area.
Draper's Access projection screen has been re-engineered to enable even larger sizes, up to 16'wide in image area, while still in a case less than 7 1/4" tall.
Both the Access and Access Fit feature the same rugged components, including a redesigned bottom closure panel. A new hinge system allows the closure panel to hang in place when opened, or it can be easily removed.
Adjustable or removable hoisting brackets are now included with each Access and Access Fit screen to allow for easy lifting during installation.
Both the Access and Access Fit will utilize new Draper part numbers for easy ordering.
Introducing the
LVC-IV low voltage controller
! Our newest screen control offers a wider feature set with no increase in cost. This compact control may be built into most of our motorized projection screens, or installed externally with an even wider range of products. The LVC-IV includes an RF receiver, RS232 capabilities, dry contact relays, and a Video Interface Control trigger for 3-26 Volts. An IR transmitter and receiver are optionally available.
Draper's
Aero Lift 25 and Aero Lift 50 motorized projector lifts
now have increased weight capacities of 35 and 65 pounds to accommodate heavier projectors, such as new laser projectors. We have also increased the amount of drop available in each lift to 24.5" and 38.5" respectively.
We are pleased to now offer curved
Edgeless Clarion and curved ShadowBox Clarion screen models
! These products are available on a custom basis with tighter radius curves than existing models.
Draper's TecVision line of premium viewing surfaces continues to set the standard for high definition projection quality in 2015. We have added two new surfaces to our TecVision lineup, including:
XH700X Grey, with a gain of 0.7, designed for blending applications on curved or flat screens where ambient light is present. And:


XT1100X White, with a gain of 1.1, recommended for environments where you need a modest increase in image brightness.
All TecVision surfaces are ISF certified by the Imaging Science Foundation for color accuracy, and are 4K ready.
The new and unique
Screen Boom
by Draper allows the installation of a Draper Targa or Premier projection screen up to 12' wide onto a motorized arm. The screen can be stored nearly flat against the wall. Operate the Screen Boom to swing the screen into the room, at any angle up to 90 degrees. Then lower the screen for use. Perfect for use under high vaulted ceilings, in gymnasiums, and settings where typical ceiling or wall installation is unsuitable.
New
FocalPoint™ Fly Brackets
. Draper's new Fly Brackets allow you to "fly" or suspend our popular FocalPoint screen. These may be purchased individually or in pairs.
And finally, the
Draper Pro Portal
. Sign up for the Draper Pro Portal for quick and easy access to all of our powerful online tools for AV professionals, including:
Price list downloads
Order Status and Inventory levels
Shipment tracking
Projection Planner (our expanded and improved Surface Selector Pro tool)
FocalPoint and StageScreen configurators
Projector Lift Selector
A fully indexed resource library, including BIM objects, CAD drawings, and all technical documentation organized by product.
To access the Draper Pro Portal,
REGISTER HERE
For more information about any Draper product, visit us at
www.draperinc.com.

For other relevant searches, you might want to try: