architecture - engineering - construction
X-Ray Lead Barriers
Stationary X-Ray Control Screen Barriers

Easy to install in new or retrofit applications
5 standard sizes and 9 configurations available
Standard 1/16" (1.6mm) 4# Lead Protective Shielding
Higher lead shielding levels available upon request
Solid color powder coated or plastic laminate finishes
X-Ray Protective Lead Glass view window
Custom sizes and designs available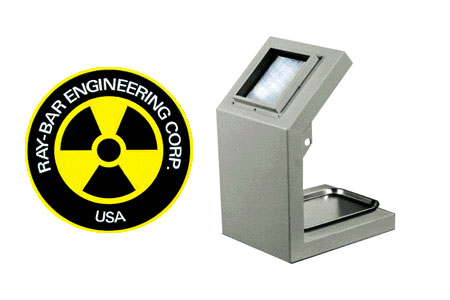 X-Ray Control Screen Barriers are constructed similar to our lead lined doors. X-Ray Barriers are available in single or multiple sections to meet varied layout applications. Our lead lined control screen barriers are available in a variety of wood veneers, such as Rotary Cut Natural Birch, Plain Sliced Red Oak, Hardboard, Legacy Walnut, Legacy Oak, Mendocino Oak, Rotary Cut Mahogany and White Finish. They are produced with plastic laminates such as Wilsonart, Formica, Nevamar, Pionite, Laminart, Kydex and more, and are available for prompt fabrication. Our natural veneers are "good in stock".

Click here for the Lead Thickness Chart.

Click here for the Powder Coat Color Chart.

Mobile X-Ray Control Screen Barriers

6 Standard design concepts
Durable solid color powder coated finishes
X-Ray Protective Lead Glass view window
4 Hospital grade non-marring casters with locks and brakes
Standard 1/16" (1.6mm) 4# Lead Protective Shielding
Higher lead shielding levels available upon request
Custom sizes and designs available
We offer mobile x-ray barriers in standard 1/16" (1.58mm) lead equivalency with x-ray view windows of various sizes and configurations. These mobile barriers are an excellent choice for medical imaging when the need for mobility is necessary. Common applications include emergency departments, trauma rooms, operating rooms, special procedures or wherever an immediate "on the run" emergency x-ray image is needed.
Find out more about Mobile X-Ray Barriers.
Click here for the Lead Thickness Chart.
Click here for the Powder Coat Color Chart.
L-Shield X-Ray Barrier
Available in various custom lead shielding levels, view windows sizes and configurations. Designed to reduce direct gamma radiation exposure when working with radioactive isotopes in hot labs or dose calibration procedures.
About Ray-Bar Engineering Corporation
Ray-Bar Engineering Corporation is a foremost leader in the design and manufacture of radiation protection materials, supplying the United States and global marketplace for over 70 years. Ray-Bar's reputation of prompt deliveries is achieved by maintaining perhaps the largest inventory of shielding materials in the U.S.
Our knowledge of custom requirements is kept in tune by our ongoing research, development, refinement, design, testing, building code compliance reviews, and installation of our products and materials on thousands of projects.
"WHEN PROTECTION IS REQUIRED THERE IS NO SUBSTITUTE FOR SKILL AND EXPERIENCE"

For other relevant searches, you might want to try: