architecture - engineering - construction
About Authentic Patented Plaster J Bead Frame (Patent # 9,765,988) for Bar Grilles
3-Part CSI specifications
Authentic Patented Plaster J Bead Frame (Patent # 9,765,988) for Bar Grilles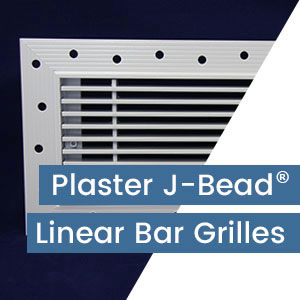 Authentic Patented Plaster J Bead Frame (Patent # 9,765,988) for Bar Grilles
SEEMINGLY SIMPLE. SIMPLY SEAMLESS.
The AAG Advanced Architectural Grilleworks exclusive Plaster J-Bead® frame combined with our quality linear bar grille cores provides a flush, borderless installation for plaster and drywall applications on walls and/or ceilings. Also known in the industry as a "mud grille" or "plaster grille", it provides a seamless installation enabling you to smoothly capture the contour of any wall or ceiling.
The Plaster J-Bead® linear bar grille is available in any linear bar grill core style and finish.
The exclusive Plaster J-Bead® design linear bar grilles is quickly fastened to the wall via the outer flange by either screwing or nailing through the pre-drilled holes. After fastening, the flange is covered with a skim coat of plaster providing your customer with a clean, flush appearance.
Artistry in Architectural Grilles innovated this one piece design providing unparalleled installation simplicity for various style linear bar grilles.
FRAMED LINEAR BAR GRILLE – PLASTER J-BEAD®/ "MUD-IN" GRILLE
These custom fabricated Plaster J-Bead® linear bar grilles are available in aluminum with a full range of finishes: satin #4, satin–anodized, mirror polish #8, prime painted, or powder coated.
The core can be fixed (welded to the frame), or removable for access to damper controls. Artistry in Architectural Grilles pioneered this one-piece frame design and developed a wide range of fastening methods for attaching the core to the frame and providing unparalleled removable access.
PRODUCT OPTIONS
Solid, fully welded construction
Multiple pre-punched holes for installation
Various width flanges to capture plaster or mud without cracking
Various models with built in knife guides to achieve a Level 5 plaster finish
Accommodates wall thickness from ¼" through 1.0"
Various innovative removable core options installed with dampers or filter features
Options for spring clips, custom designed mounting clips as well as 304 stainless steel fasteners and 304 stainless steel inserts
If your project requires a quick-ship product, Artistry in Architectural Grilles has the industry's widest range of in-stock Plaster J-Bead® linear bar grilles.

05500 - Metal Fabrication
05580 - Formed Metal Fabrication
05700 - Ornamental Metal
10240 - Grilles and Screen
15800 - Air Distribution
15850 - Air Outlets and Inlet
05 50 00 - Metal Fabrications
05 58 13 - Column Covers
05 58 16 - Formed Metal Enclosures
05 58 19 - Heating/Cooling Unit Covers
05 70 00 - Decorative Metal
10 22 23.13 - Wall Screens
10 82 00 - Grilles and Screens
10 82 23 - Interior Grilles and Screens
23 30 00 - HVAC Air Distribution
23 37 00 - Air Outlets and Inlets
23 37 13 - Diffusers, Registers, and Grilles
23 37 23 - HVAC Gravity Ventilators
23 37 23.16 - HVAC Gravity Louvered-Penthouse Ventilators