architecture - engineering - construction
About Frameless Glass Shower Doors & Enclosures - Sliding, Pivot & Corner Shower Door
Frameless Glass Shower Doors & Enclosures - Sliding, Pivot & Corner Shower Door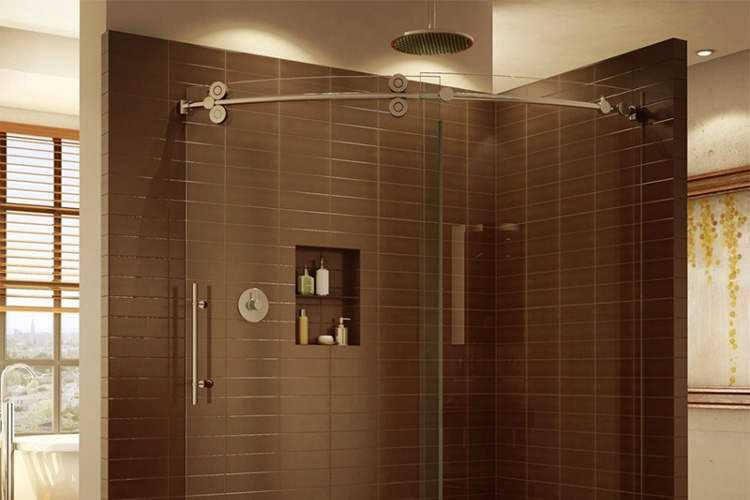 To finish off your shower or tub enclosure you want the right frameless glass shower door or tub enclosure which not only keeps the water inside, but makes your bathroom have the look you desire. In the page below check the broad selection of frameless and semi-frameless sliding, pivot, walk in, bypass, corner or even curved glass shower doors. Or if you're looking to get rid of curtains in favor of a glass system around your tub, you'll see a variety of open or enclosed options to make a statement in your space. Choose from frameless glass shower doors or a more budget-oriented semi-frameless system. Check out fun hardware finishes from matte black, oil rubbed bronze, chrome and brushed nickel to compliment your rain heads and shower jets.
Benefits of Frameless & Semi-Frameless Glass Shower Doors & Tub Enclosures

You'll find a wide ranges of sizes, glass heights, thicknesses, hardware finishes and shower door types in this line. Here's a few benefits which make Innovate's line unique:
Innovative systems for any budget
Many people want a unique design but at an affordable price. Choose from a high end frameless intelligent hinged system, a mid priced semi-frameless sliding, pivot or curved glass shower door to a low priced value line. Glass thicknesses will vary from a budget-oriented 3/16" to a luxury 3/8" thick system.
Curved, round, square, rectangular and neo angle acrylic bases to fit any space
Whether you've got a small bathroom which requires a corner or alcove shower stall or a larger space, there is a contemporary acrylic shower pan to fit your bathroom décor.In addition the glass and the shower doors are designes to work perfectly with one another.
Superior hardware design for better long term performance & reduced maintenance costs
Quality hardware and European inspired rolling and hinge systems create unique looks combined with smooth performance. These are not flimsy big-box store glass shower doors or cheap 'builders-grade' framed shower doors which wobble when you open them.
Flexibility to use standard sized pans with multiple wall systems
This glass shower door can be used with 52 different contemorary acrylic or textured stone shower bases. Whether you need a pivoting glass door (for a larger opening in a stand up shower) or a sliding door system for a tub or alcove shower. Mix and match these glass shower doors with fun bases (some even have linear or or hiddent drains) to create a cool, contemporary, sleek or traditional bath decor.
Multiple uses
From tub & shower enclosures to screens to walk in shower stalls to commercial bathrooms this line will stand up to the rigors of a workplace or to your 2 teenage boys!
Nationwide supply and regional installation services available from a company you can trust
Check out Innovate's ratings on Google, Angies List, Consumers Choice or the Better Business Bureau. Whether you need a glass shower door or enclosure for a local installation in Cleveland Ohio - or want a supplier to wholesale a system to you (and provide you the advice you need) for a bathroom remodel in California or Florida (or anywhere around the country for that matter). an Innovate Building Solutions representative to lead you through the process.
Free selection and installation assistance
Take the guess-work out– we can help select the right product and install your system (regionally) or supply your system (nationally) to suit your needs.In certain select markets we can even help you with an authorized Innovate installing dealer.
Nationwide Shipping. No hidden shipping fees or costs. We ship anywhere in the United States – from Washington to Texas to New York to Florida.

News archive:
Special Offers From Bath Doctor (Nov 10, 2011)
10820 - Bath Accessories
10 28 19 - Tub and Shower Doors