architecture - engineering - construction
About Contemporary Shower Accessories for Laminate Wall Panels & Tile Showers
Contemporary Shower Accessories for Laminate Wall Panels & Tile Showers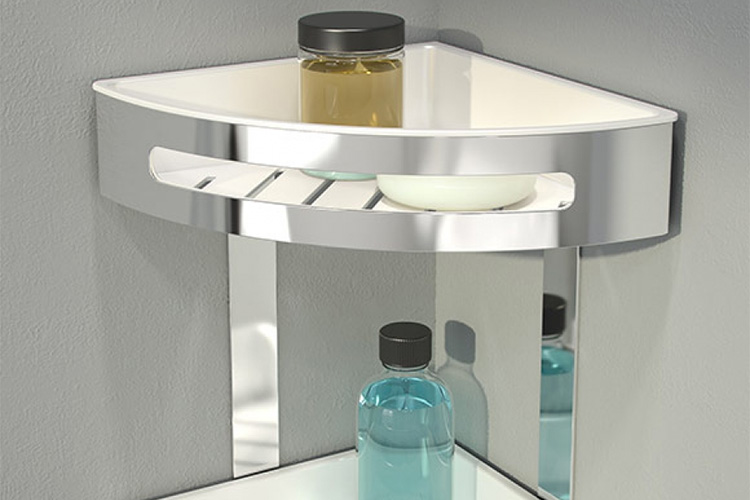 Just like dresses aren't complete without accessories (like handbags, jewelry, and shoes) it's also true shower wall panels and tile showers need accessories to organize your soap, shampoo, loofas and sponges in order and ready for you to use. In this page you'll see how your shower accessories and tub storage can not only be functional, but beautiful as well.
Learn more about a sleek line of contemporary shower accessories which will not only add to the function of your shower, but it's looks as well. These accessories work perfectly whether your design style is Mid-Century Modern, Contemporary, Transitionall or even Modern Farmhouse or Shabby Chic.
Benefits of the Agile & Moderna Shower Accessory Lines
Removable and washable components – There is nothing worse than a shower shelf which gets moldy and isn't easy to clean. With removable trays and shelves for the inside of your shower, your accessories can look fresh and new – even when your shower or bathtub isn't.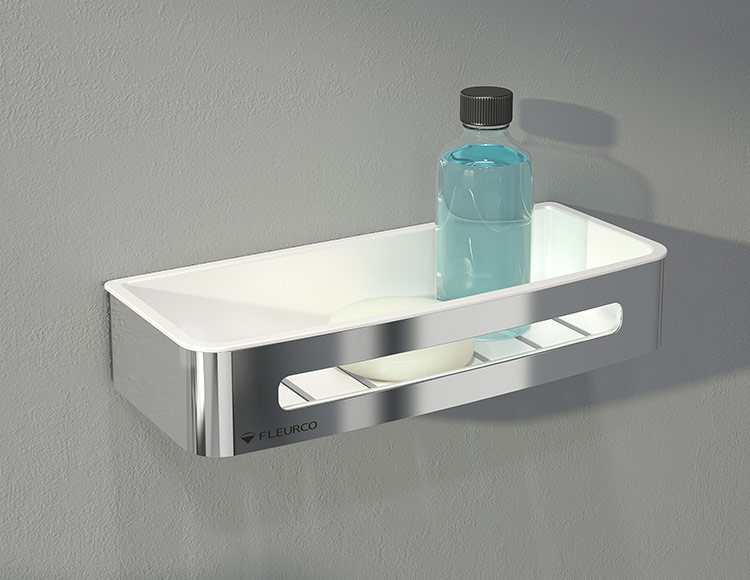 Soap won't fall through the tray – Reaching over to pick up your soap after it's fallen through a fixed wire corner soap basket is an accident waiting to happen. Our trays have just enough room to allow water to seep through without your soap coming out.
Contemporary look – Many shower wall panel systems have 'old school'' looking accessories – shower caddies and niches which look like they were designed when the disco ball was hot. Tile shower niches can look dingy as the grout gets moldy and dark. The "Agile' line is designed to fit today's relaxed, yet sleek-lined design aesthetic.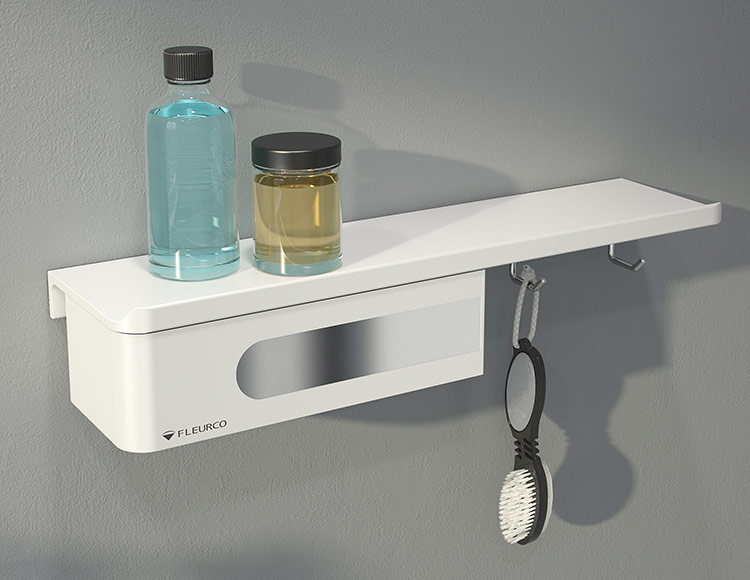 Shower and bath accessories can be placed where you need them – Whether your tall or VC (Vertically Challenged) shouldn't be a problem in a shower – but it usually is when you have to live with pre-molded shower systems or old tile showers with niches put in by previous owner. With the Contempo" line you can install your accessories where you need them.
Made with durable materials which won't rust or warp – A rusty or warped shower shelf or shower caddy which hangs over the shower head, certainly doesn't add to the look of your bathroom. With the "Agile' line you can eliminate these worries since our line uses ABS plastic (which is 2x stronger than polystyrene and harder and glossier). In addition the product is finished with stainless steel which won't rust.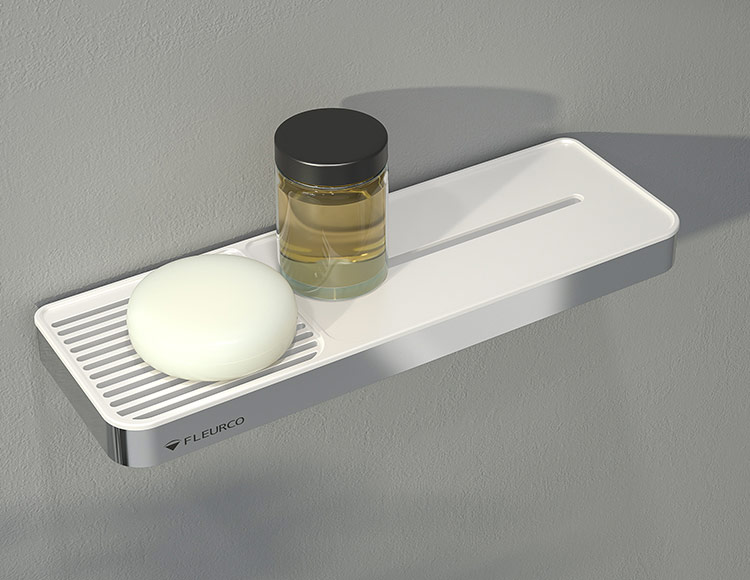 Designed to compliment laminated or decorative PVC bathroom and shower wall panels – The Agile lines coordinates wonderfully with either laminated shower wall panels (also known as 'The No Tile Tile Shower') or Decorative PVC panels.

Shelves, footrests and grab rails to get more function in your bathroom and shower - Using your shower (or vanity counter) can be a pain (literally) if your shower or bathroom doesn't have the right elements for it to work the best for you. Check out the new line of Moderna shelves (with complimentary tumblers, soap dishes and soap dispenser) to keep your showering supplies in order. And if you worry about your spouse straining to shave her legs the new footrests in the Moderna line you need to check out. And lastly the contemporary grab rail - while ADA compliant and safe - will dress up your shower and give you peace of mind.
DIY Friendly to install – You'll only need a drill and screwdriver to put these shower and bathtub accessories up. They install in minutes.
Free shipping – When these accessories are shipped with a shower or tub wall panel system, glass enclosure or shower pan there is no additional shipping cost.
Get free design help from our bathroom and shower experts - Since Innovate Building Solutions not only wholesales these products nationwide – but also an authorized installer of bath and shower systems - we can help you with your design, installation or construction questions.

News archive:
Contemporary Shower Accessories for Laminate Wall Panels and Tile Showers (May 20, 2021)
Special Offers From Bath Doctor (May 25, 2013)
Special Offers from Bath Doctor (Jan 24, 2011)
10800 - Toilet, Bath and Laundry Accessories
10810 - Toilet Accessories
10820 - Bath Accessories
10826 - Bathroom Mirrors
12440 - Bath Furnishing
10 28 00 - Toilet, Bath, and Laundry Accessories
10 28 13 - Toilet Accessories
10 28 16 - Bath Accessories
22 41 00 - Residential Plumbing Fixtures
22 42 00 - Commercial Plumbing Fixtures