architecture - engineering - construction
Yahoo! Finds Ruskin!
Ruskin's AMCA certified low leak CD50 aluminum airfoil damper is the damper of choice for this energy saving project in New York. The CD50 was designed to save energy in the building envelope by maintaining low leakage levels as stipulated by the International Energy Conservation Code (IECC). The project covers nearly 12,000 square feet of wall opening.
The Yahoo! data center will be powered mainly by hydroelectric power from Niagara Falls, with 90% of that energy going towards powering the servers. The center itself will use 100% outside air to cool the servers, a task which typically gobbles up 50% percent of a data center's energy supply. Yahoo! is also committing to carbon footprint reductions in all of their data centers by 2014.
The CD50 damper is an extremely low leakage damper designed for use in medium to high pressure commercial HVAC systems. It was the first AMCA licensed low leakage damper and features:

Airfoil blades for greater strength, less noise and less pressure loss.
Extruded aluminum construction.
Concealed linkage for low maintenance and less turbulence.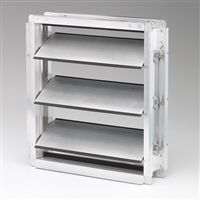 For other relevant searches, you might want to try: