architecture - engineering - construction
News
2500 Series Access Hatch For Wood Floors
Our wood floor access hatch is a stainless steel cover trim. It has been designed and manufactured specifically to provide safe and easy access to concealed services under wood flooring.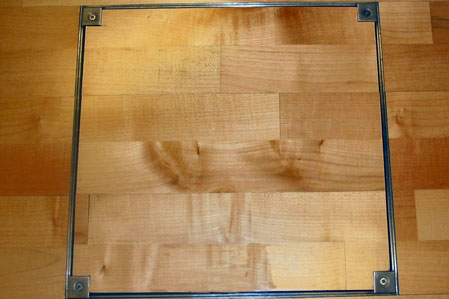 What type of floor finish is it generally used for?
The wood floor access hatch can be used with all kinds of timber floors, for example heavy duty laminate flooring, Junckers solid hardwood floors and timber strip flooring.

What level of performance does it give?
It is a light duty floor access hatch suitable for areas with pedestrian traffic, including wheeled trolleys and sack trucks.

Where would I use this product?
The wood floor access hatch is ideal for residential properties where it can be used in conservatories and extensions to access drainage.

The 2500 Series can also be used to access concealed services in offices, schools and universities and public buildings that are subject to heavy pedestrian traffic.

Materials:
The 2500 Series is manufactured from stainless steel and is fitted with stainless steel securing bolts.

Specifications:

Size

Maximum size 36" x 36" clear opening
Minimum size 6" x 6" clear opening
Overall frame size clear opening plus 2 ¾"*
Example: 10" x 10" clear opening equates to 12 ¾" x 12 ¾" overall frame size
Overall depth 1"
Weight: 4 lb/ft²**
Materials
Manufactured from stainless steel, fitted with stainless steel securing bolts.
Product Benefits
Made to your specification, between stated maximum and minimum sizes, with no time or cost constraint.
Quick and easy to install ensuring minimum disruption.
Fits within the thickness of a standard timber floor, removing the need to cut rebates into whatever is underneath the timber flooring.
Provides easy access to under floor services using lifting keys to remove the access cover.
Screwed sideways into the floor to allow movement with a floating timber floor.
Download Access Hatches Brochure
Download 2500 Series Datasheet
URL:
https://www.howegreen.us/accesscovers/floor/wood-floor-access-covers.php
For other relevant searches, you might want to try: