architecture - engineering - construction
3 Reasons You Need The Wood Book by National Gypsum Company
Our new, comprehensive guide provides detailed resources for fire-rated assemblies in wood-frame construction.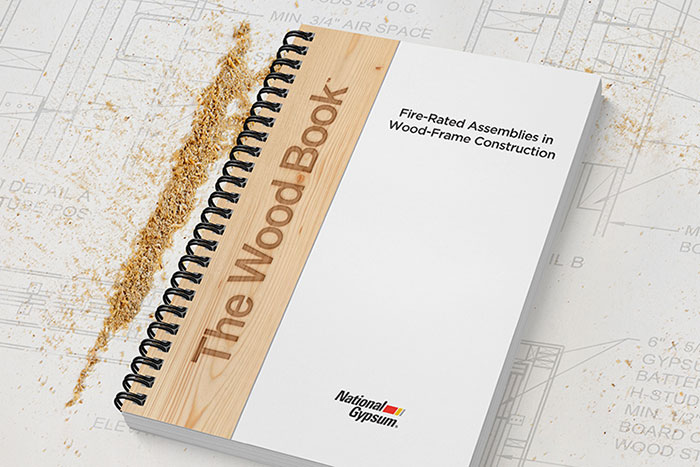 National Gypsum Company is launching our latest technical resource, The Wood Book, at the INTEX Expo and online. Featuring detailed fire-rated assemblies for multiple wood-frame construction projects, The Wood Book is an invaluable resource for architects, contractors and building inspectors. If you are unsure if this resource will be useful for your next build, here are a few reasons you should download your copy today.
UL Designs and Connection Details Provide the Basis of Design
Across almost 150 pages, The Wood Book gives readers detailed information and designs they can directly implement in wood-frame construction. These designs are fire-rated, meaning architects can use them as the basis of design for wood-frame projects, and inspectors can be confident in their effectiveness.

The Wood Book includes the following designs:
Wood-frame walls
Floor-ceiling and roof-ceiling assemblies
Head-of-wall and rim joist details for the intersections of walls and floor-ceiling assemblies
Multiple options for mechanical, elevator and stair shaft enclosures
Designs are Applicable to Multiple Project Types
The fire-rated assemblies found in The Wood Book are tested and rated for use in multiple wood-frame constructions, including duplexes, townhouses, and multifamily and light commercial projects. This versatility allows you to use the guide on multiple projects, saving you from finding additional resources or information.
Fire-Rated Assembly Designs and Insights are the Industry's Most Up-to-Date
The Wood Book also includes new key insights into fire-rated assemblies for wood-frame construction, such as new area separation wall details, including egress door installations. It also gives special attention to the intersection of assemblies to maintain the continuity of fire ratings between systems. These cutting-edge descriptions and visual guides make The Wood Book one of the most comprehensive fire-rated assembly resources currently available.

National Gypsum is committed to being the go-to resource for practical and applicable technical support, and The Wood Book is just the latest in a series of technical guides from National Gypsum Company that also includes:

The PURPLE Book® II, which is the leading resource on fire-rated assemblies in commercial construction

The SoundBook® 2.0, which provides technical details for acoustic assemblies and includes real-world sound-rated designs

The Wood Book was developed by the experts on the 1-800-NATIONAL® Construction Services team, who are available to answer any questions you may have about the guide.

Download your digital copy of The Wood Book.
@NationalGypsum #NationalGypsum #construct

For other relevant searches, you might want to try: