architecture - engineering - construction
A Short History Of High-Rise Cavity Shaftwalls
When the Firestop Contractors International Association approached us to write an article about high-rise cavity shaftwalls for the fall issue of Life Safety Digest, Mark Chapman took the assignment. As Senior Manager of Construction Services for National Gypsum, Mark provides technical support for National Gypsum products, gypsum board systems and specifications. He also serves on the Gypsum Association building code and technical committee, and has been involved with the development of construction systems for more than 30 years.

The High-Rise Cavity Shaftwall System Began With The World Trade Center
On April 4, 1973, New York Governor Nelson Rockefeller cut the ribbon on the world's two tallest buildings, proclaiming, "It's not too often we see a dream come true. Today, we have." The World Trade Center, which began as a pavilion at the 1939 World's Fair dedicated to the concept of "world peace through trade," stood 110 stories and 1,368 feet in height.
But before ground was broken to construct the World Trade Center, the team was reengineering core systems to accommodate this record-high building. The architects and engineers asked major gypsum board manufacturers to develop a gypsum-based alternative to conventional masonry elevator enclosures. Their answer would be the gypsum shaftwall system (known today as Cavity Shaftwall System). Designed to replace heavier, more expensive masonry walls, the gypsum shaftwall system utilizes gypsum board framed by metal studs and channels to enclose elevator shafts, stairwells and vertical service shafts. These shaftwalls incorporate built-in characteristics designed to withstand the positive and negative air pressure forces exerted by high-speed elevators.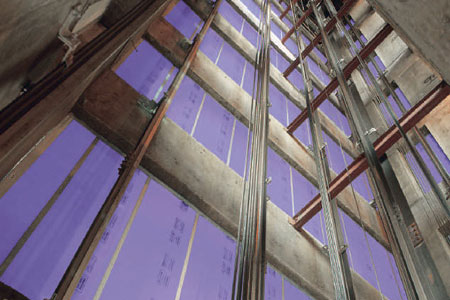 Advantages Of The Cavity Shaftwall System
In addition to maintaining structural integrity, gypsum shaftwall systems provide many benefits. They are lightweight, easy to install, weather-, sound- and fire-resistant and more economical than masonry shaft construction. Originally designed for and installed in the World Trade Center, gypsum shaftwalls are four to five times lighter and considerably less expensive to install than traditional masonry enclosures. They weigh approximately 10 pounds per square foot of wall compared to 40 or 50 pounds per square foot for a masonry wall. This is key to a project like the World Trade Center.A weight savings of this magnitude rapidly translates into major savings, especially considering the unprecedented height of this high-rise.
Further, buildings utilizing the gypsum shaftwall system require less structural steel and less extensive underground support pilings. In addition, the core of the gypsum panels in the gypsum shaftwall system contains about 21 percent water by weight, creating a fire barrier with a 2-hour rating from either side. If the shaftwall gypsum panel is exposed to fire, the water is slowly released as steam to effectively retard heat transmission. The Cavity Shaftwall System is typically installed using 1-inch-thick gypsum shaftliner panels inside a minimum 2-1/2-inch metal structural framing with an integral space to hold the panels in place on the shaft side. Metal J-track runners are placed horizontally on the top and bottom and vertically at partition ends. They also frame openings. Two layers of 5/8-inch or 1/2-inch fire-rated gypsum wallboard then fasten to the outside of the stud, creating the corridor side of the enclosure.
Reinforcements Develop As A Result Of 9/11/2001
Since that first installment in the World Trade Center, gypsum shaftwall systems have become standard equipment in nearly every medium- and high-rise building to come off the drawing boards. But the systems currently built underwent reinforcements after the deliberate destruction of the World Trade Center on September 11, 2001.
In response to 9/11 events, officials of the City of New York created Local Law 26, which was signed by Mayor Michael Bloomberg on June 24, 2004. The new law amended the Building Code and Fire Prevention Code to incorporate retroactive requirements and prospective provisions. To address stair and elevator enclosures, Local Law 26 added the new requirement of hardened shafts as components in Cavity Shaftwall Systems.
As stated, high-rise buildings 75 feet or higher must have impact-resistant stair and elevator enclosures, constructed with impact-resistant materials. Local Law 26 mandated that high-rise office buildings, constructed pursuant to applications filed on or after July 1, 2006, be built with impact-resistant stair and elevator enclosures, and required that the Commissioner of Buildings adopt a rule establishing the technical standards for their installation. Chapter 32-05 stated that for Impact-Resistant Stair and Elevator Enclosures, a compliant wall assembly shall be substantially identical to, and shall provide an impact resistance equivalent to or exceeding the performance of one of the following:
Stud Wall
Materials: Impact-resistant construction board will be sheathed on the impact face of the stair or elevator enclosure wall assembly. It shall undergo testing by a laboratory acceptable to the commissioner in accordance with the requirements of ASTM C1629 (Standard Classification for Abuse-Resistance – Non-Decorated Gypsum Panel Products & Fiberglass-Reinforced Cement Panels). The impact face shall be considered as the exterior of the stair or elevator enclosure, on the occupied side of the building, and shall be comprised of two layers of construction boards. The construction board used as the base layer panel shall meet or exceed Classification Level 2, as measured by the method described in ASTM C1629, and the face panel shall be a minimum 5/8-inch gypsum construction board. The wall assembly shall have a minimum two-hour fire-resistance-rating as measured by the method described in ASTM E119. It shall also meet or exceed Soft Body Impact Classification Level 2 (195 ft.-lbs.) as measured by the method described in ASTM C1629.
Installation: Studs shall be minimum 3-1/2-inch depth metal studs, at least 33 mils thick (20 gauge). Vertical studs shall be spaced a maximum distance of 24 inches on center. Runners shall be securely attached at the floor and ceiling to structural element members in such a manner that provides lateral resistance in excess of the equivalent energy of Soft Body Impact Classification Level 2 of ASTM C1629. The installation of top and bottom runner tracks shall be subject to controlled inspection. Construction boards shall be attached with No. 8 self-drilling bugle-head screws, 12 inches on center maximum with a minimum depth of 5/8-inch penetration into the wall cavity. Screw attachments shall meet the requirements of ASTM C1002, Standard Specification for Steel Drill Screws for the Application of Gypsum Panel Products or Metal Plaster Bases. Joints between adjoining sheets of construction board shall be staggered from base layer with face panel layer.
Read the full article

For other relevant searches, you might want to try: