architecture - engineering - construction
News
A704 Solar Airfield Light from Carmanah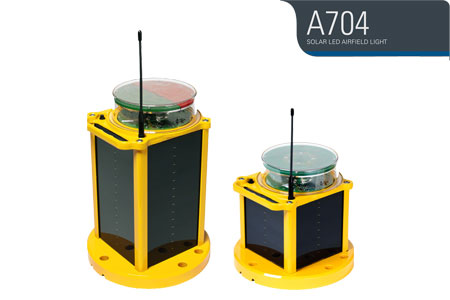 Features
Helipad Compliance:
The A704 meets current ICAO & FAA optical compliances and military standards, validated by third party. ICAO compliant as runway edge lights, approach lights, taxiway lighiting, and threshold/end lights.
High visibility:
Up to 578 cd (white), with a wide viewing angle; important for pilots flying under Visual Flight RUles (VFR) or in poor weather.
Theft Deterrent:
Non-standard batteries secured in a locked compartments make theft difficult and unattractive.
Infrared NVG Mode:
All products include infrared mode that makes the light visible with Night Vision Goggles (NVG) for military operations.
Easy to transport:
The compact model weighs only 4.9 kg (11 lb), stands 21.4 cm (8.4 in), and has a built-in handle.
Highly Durable Construction:
Powder coated aluminum and polycarbonate chassis, with a choice of yellow or olive (military) green.
Bright and Low Maintenance Lighting:
LED lights last 10,000+ hours and never need a change.
Long Lasting Batteries:
Batteries are encased with metal and last 5-10 years in the field, withstanding operating temperatures within -40° C to 80° C.
Secure and long-range wireless control (optional):
Wireless signal encrypted in 256 bit for added security and controllable up to 4 km. Extra signal strenth increases reliability in poor weather or when not in line-of-sight.
Options
Wireless control
Charge port or military charge port
Oliive drab chassis
Accesories
Handheld controller
Mounts
See all accessories
Models Based on Solar Engine Sizes
When selecting a model configuration, consider the differences of solar engine sizes and wireless option.
A704 Compact
At 8.4" (214 mm) tall, the A704 Compact is the smallest of the Carmanah 700 Series. Suitable for at least 7 days autonomy in mid to high sun locations. Comes with 60 Wh battery pack. Available in wireless and non-wireless versions.
A704 Standard
The A704 Standard provides reliable solar airfield lighting over a wider geographical range. Comes with 96 Wh battery pack.
A704 Large
The A704 Large is available for use in tough solar locations. Comes with 200 Wh battery pack and includes all of the features of the compact and standard models.
Find the optimal solution for your installation location.
Download our Runway Light Product Selector map
Download the Specification Sheet
About Carmanah Aviation
Carmanah Aviation is THE source for cost- efficient, scalable, and flexible solar airfield lighting solutions. Our durable airfield systems install within hours for maintenance-free operations without grid power, buried cable or airfield electrical vaults. With rugged, wire-free designs and sophisticated solar energy management systems, Carmanah products are ideally suited for use at locations around the globe.
For other relevant searches, you might want to try: