architecture - engineering - construction
Acrylic Freestanding Soaking Tubs from Innovate Building Solutions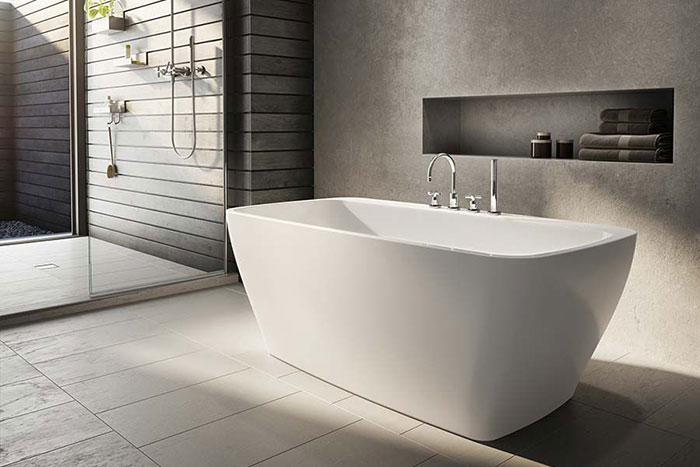 If you're debating whether a standalone bathtub or freestanding soaking tub is right for you. The product options appear endless. Here are a few questions you may be asking:

Is it best to buy an acrylic, cast iron, or solid surface tub? What soaking tub sizes are available?
What material will not only be comfortable but will give me a good value for my money?
What design will compliment my new décor and be easy to get into?
Which tub won't be difficult to install AND will fit through the door?
Would a deep soaking tub or a shallower alcove bathtub be better?
Do I have enough room for a freestanding soaking tub?
Your questions go on and on.
And if you struggle not only with product options but also with understanding the benefits of standalone tubs you've come to the right place. The bathtub specialists at Innovate Building Solutions provide straight answers to your questions. We'll help you figure out the best freestanding tub for you. And you can learn more with our simple-to-read articles and free guides to make your best choice.
If you're looking for the best acrylic soaking tub that will not only make a fashion statement, but will be built to last, you'll want to consider Innovate's Designer Line of standalone tubs. Their benefits include:
Thicker (10 ml.) acrylic surface provides more durability and minimizes the chance of scratching.
One piece design improves strength and durability.
Easy to clean high gloss cast acrylic.
Highly resistant to staining.
Pre-installed chrome on brass drain.
Spacious tub designs have more room inside the bathtub (also called the bathing well) for a more comfortable soaking experience.
Slotted clean overflow on all models.
Adjustable leveling feet ensure you don't have a tub which will squeak or move.
White drain cover included on all models. Optional chrome, brushed nickel, and matte black finishes are available.
Non-porous. Dirt won't accumulate on the surface like fiberglass.
100% recyclable.
Established brand with years of bathtub innovation excellence.
Tub sizes to fit small alcove spaces or large bathroom remodels.
Designer freestanding tub sizes in stock for immediate shipment.
Paper templates are available to help locate your tub to ensure you buy the right unit.
Optional 'Rapid Connect' drain available to save labor costs and makes the installation easier (especially if you don't have easy access through the floor below).
Check out our webpage to learn more about our Acrylic Freestanding Soaking Tubs and how you can order yours today!
@innovatebuild #innovatebuild #shower #remodeling #bathroom

For other relevant searches, you might want to try: