architecture - engineering - construction
Atlanta's Largest Development Builds on PENETRON
The first stage of construction – including the below-grade structures treated with PENETRON crystalline technology – for the Atlanta region's largest office development project was completed in July. The PENETRON ADMIX-treated concrete is now permanently protected from any water penetration.

Park Center is a commercial campus developed by KDC in Dunwoody, Georgia, just north of Atlanta. It is the biggest development of its kind in metro Atlanta since the early 1990s. The project developer, KDC Realty, has completed the first stage of a "multi-functional hub," with three of the office towers dedicated as a new State Farm headquarters. State Farm is an insurance and financial services company and one of the largest insurers in the USA.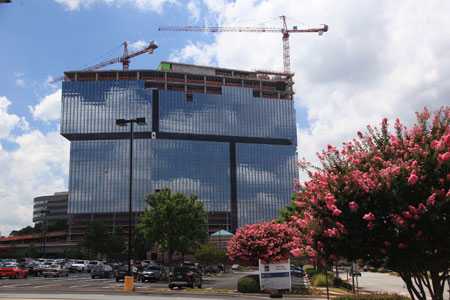 Down on the farm: The new State Farm headquarters, built on a foundation of PENETRON-treated concrete, takes shape in Park Center, Dunwoody (Atlanta).
Conceived by Cooper Carry, a design firm of architects, interior designers and landscape architects, Park Center's just-completed phase of construction encompasses a 13-story office tower atop a seven-level parking deck, including 585,000 square feet (54,350 m2) of office space. The campus also features a fitness center and street level retail stores and restaurants, with a direct connection to the MARTA (public transportation) station adjacent to Perimeter Mall.

Subsequent construction phases for Park Center are now in progress. In total, the entire development will include 2.2 million square feet (204,390 m2) of office space and 100,000 square feet (9,290 m2) of retail, restaurant and entertainment space. The development is pursuing LEED Silver Certification.

"The office towers are built into a hillside, which resulted in a considerable amount of below-grade structures," adds Christopher Chen, Director of The PENETRON Group. "This is an ideal application for PENETRON technology."

Holder Construction, as the general contractor, took advantage of streamlining the construction schedule by using concrete treated with PENETRON ADMIX for the foundation walls and slab of the parking deck.
"Recent studies have confirmed that PENETRON ADMIX can add up to 60 years or more to a concrete structure through its ability to substantially decrease permeability and chloride migration and enhance overall durability," explains Mr. Chen. "This has far-reaching consequences for all concrete structures."

The PENETRON Group is a leading manufacturer of specialty construction products for concrete waterproofing, concrete repairs and floor preparation systems. The Group operates through a global network, offering support to the design and construction community through its regional offices, representatives and distribution channels.

For other relevant searches, you might want to try: