architecture - engineering - construction
PENETRON Helps Protect Russia's Historical Sites
For many historic renovations, PENETRON remains the preferred concrete-enhancement solution. The newly reopened Grand Palace in St. Petersburg, Russia, underlines the effectiveness of PENETRON materials for renovation and concrete repair.

Recently, the 4th International Cultural Forum held in St. Petersburg, Russia, celebrated both the 70th anniversary of UNESCO and the ongoing preservation of the world's cultural heritage sites – with a particular focus on St. Petersburg and the surrounding region. Over 7,000 participants from 40 countries attended, and Mikhail Piotrovsky, Director of the famous Hermitage Museum, noted, "Without culture, there is no humanity."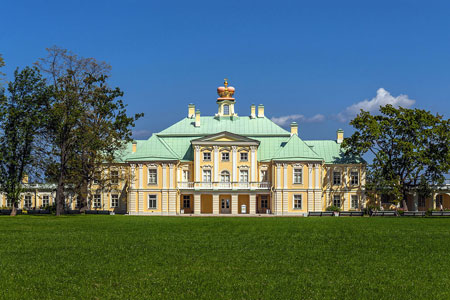 Grand Menshikov Palace south (Lomonosov) at Oranienbaum in St. Petersburg, Russia
The closing of the International Cultural Forum coincided with the completion of another PENETRON project of historical and cultural importance: the Grand Palace (Lomonosov) at Oranienbaum in St. Petersburg. Founded by Prince Menshikov in the 18th century, the palace is one of the most opulent examples of baroque architecture from the time of Peter the Great to have survived to the present, although it was badly neglected until recently. Today, glowing in new-found splendor, it is part of the city's famed Hermitage Museum and houses a definitive collection of 17th and 18th century Russian art.

To enhance the durability and impermeability of the Grand Palace, the water and sewage systems were updated. PENETRON crystalline waterproofing material and PENECRETE MORTAR crack repair materials were used extensively to treat all the new and repaired concrete structures.

The range of activities, carried out in the framework of a federal program to restore the Palace, included "Michael's Cottages," the former summer residence of the Grand Duke. This garden complex was also used as the basis for the new campus of the Graduate School of Management at St. Petersburg University, an earlier PENETRON project completed two years ago.

"The most challenging stage of construction was the restoration – and waterproofing – of the palace basements and foundations," notes Igor Chernogolov, President of PENETRON Russia. "We applied over 20 tons of PENETRON ADMIX for the foundations. The resulting belowground structures are now impermeable with a self-healing ability to seal any cracks."

Finally, over 3,000 m (9,840 feet) of PENEBAR SW waterstop sealed all the resulting construction joints, creating a watertight structure.

PENETRON crystalline technology was also used in other historical Russian projects:

Benoit Dacha – built in the 1890s, this two-story manor house, with stone basements, attics and tower, used PENETRON technology to prevent leakage of underground water.


American (Nikolaevsky) Bridge – a group of railway bridges from the 1840s using innovative American construction technology. PENETRON ensures impermeability of the concrete foundations.


Benua Museum – a stately, late 19th century residence, the renovation included PENETRON technology to upgrade the leaking basement structures.


Kazan Cathedral – this 1811 St. Petersburg cathedral features a historic fountain repaired in an overnight emergency operation with PENETRON materials.


Peter and Paul Cathedral – of immense historical importance to Russia, this final resting place of the last Russian Emperor, Nicholas II, and his family was renovated with PENETRON materials for the dolphin and sea lion pools.
"We are immensely proud of helping to preserve these important cultural and historic sites in Russia,"
adds Robert Revera, President and CEO of The PENETRON Group.
"Our success demonstrates the effectiveness and reliability of the PENETRON technology, especially in the harsh Russian climate."
The PENETRON Group is a leading manufacturer of specialty construction products for concrete waterproofing, concrete repairs and floor preparation systems. The Group operates through a global network, offering support to the design and construction community through its regional offices, representatives and distribution channels.

For other relevant searches, you might want to try: