architecture - engineering - construction
Bird B Gone Bird Hazer System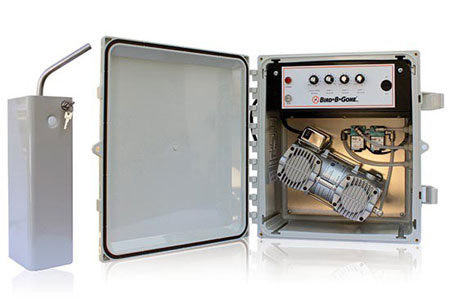 Bird B Gone® Bird Hazer is an affordable and advanced hazing system that releases a fine vapor of bird repellent into the air to deter pest birds from large open or semi enclosed spaces.

Bird hazing systems are designed to deploy a light haze of bird repellent made with Methyl Anthranilate (MA), a non-toxic, food-grade ingredient. When birds fly through and breathe the fine mist of MA, their mucous membranes become irritated. Harmless to birds and people, birds associate the haze with the area and leave the location.

Experience the Bird B Gone Difference

Reliable, field tested by Bird B Gone technicians
Adds recurring revenue to your bird control business
More efficient and cost effective than other bird hazing units
Covers more area using less product
Smallest particle size – less than one micron
Haze stays airborne longer
Multi-head unit vs. single head unit offers greatest coverage
Simple to install and operate; plug-n-spray
Weatherproof design guarantees reliability
Setup consultation, support and installation video with every unit
One year manufacturer's warranty
Buy Online Now
About Bird-B-Gone, Inc.
Bird-B-Gone, Inc. is the world's largest manufacturer of professional bird control products. We offer an extensive line of bird deterrents to help solve bird problems in commercial, industrial and residential settings. Bird-B-Gone products are made in the USA and carry industry leading guarantees. Our team of bird control experts can help you choose the right product and give installation advice for your specific situation. We also work with a network of trained "Authorized Installers" that can install products for you.
At Bird-B-Gone our people, products, expertise and training make the difference. Our goal is not to simply sell products, but to help solve bird problems effectively, humanely and economically. We pride ourselves on our commitment to training and customer service and give our customers real answers when it comes to effectively solving pest bird problems.

For other relevant searches, you might want to try: