architecture - engineering - construction
Tall Buildings need Bird Control by Bird-B-Gone, Inc.
The new trend in high rise apartment buildings is bringing about the old problem of pest birds. Birds such as pigeons love building structures and the higher the better. Architects and contractors often specify bird control when building high structures, but not always. When bird control is not initiated during the building phase, building maintenance managers are usually the ones who will decide where, when and how to install the bird deterrents.

The more ornate the architecture is the more nooks and crannies can be found for the birds to hide away in. Birds will roost and nest is crevices to get out of the weather elements and to also hide from their predator's sight. Birds also like to roost near a feeding ground. High rise apartment buildings house many people, and where there are people there is food. Where there is food, there is bound to be scavenger birds looking for a handout. Individual dwellers may need to implement their own bird control on the balconies.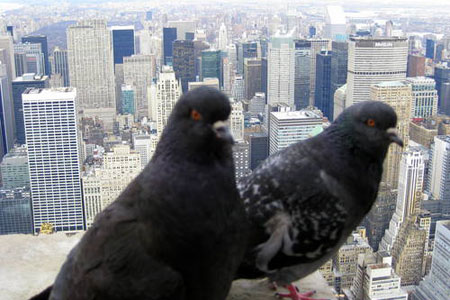 A big mess could start to accumulate from all the bird droppings. Bird droppings are not only messy but they are also unsanitary. You definitely do not want to have the bird droppings accumulate, and then start to bring them inside on your shoes or other belongings. They harbor disease and parasites that are transmittable to humans.

A vulnerable area around the high rise is the rooftop ledges, parking structures and any canopies. Placing bird control products strategically in these areas will help the whole complex. Plastic bird spikes are one type of bird control method that can help on rooftops and any other flat or curved surface. Plastic bird spikes come in an array of colors so they can match just about any structure. The colors include white, tan, brick red, brown, black and gray. The plastic bird spikes are U.V. protected and are sun and weather proof. They are also non-conductive which means they will not interfere with electrical or communication and transmissions. The maintenance crew can easy affix them to the surface either by gluing or screwing them down. The base of the bird spikes has a special glue trough for fast and easy application. If you stop the birds from roosting on the roof, most likely they will want to fly away and find another building to roost on.

Another very low profile means of pest bird control is the Bird Jolt Flat Track. It is a very low profile way to stop all birds from landing on the area. Bird spikes stop the large pest birds from landing, but the Bird Jolt Flat Track stops all birds from landing, large and small. The track produces a very mild electrical shock when the bird lands on its surface. The shock will not harm the bird, but will give the bird a good incentive to find another location. It is the only electric track bird deterrent system with patented anti-arcing and glue trough designs. It is the safest and most effective electric track available.

For a bird free and more peaceful living environment, bird control strategies need to be in place.

For other relevant searches, you might want to try: